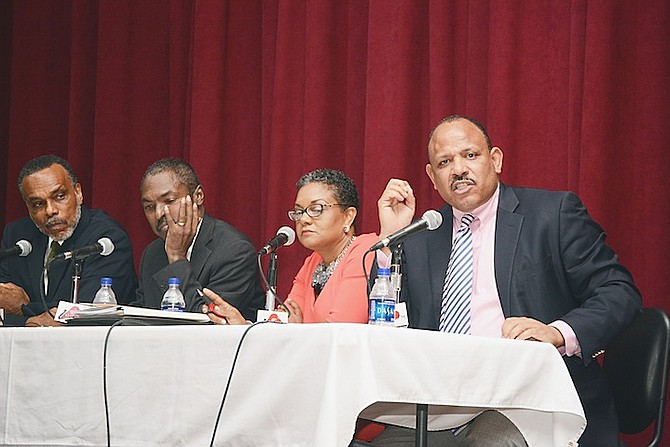 By RASHAD ROLLE
Tribune Staff Reporter
rrolle@tribunemedia.net
A NATIONAL Health Insurance town hall meeting at the College of the Bahamas last night exposed deep concern and ambivalence among Bahamians about the government's proposed NHI scheme.
Though sparsely attended, the tenor of the event recalled meetings officials held on Value Added Tax (VAT) before scratching their initial plans, postponing the introduction date to educate Bahamians and allow for greater consultation with stakeholders.
The government's plan to modernize the country––this time through improving the health care system––is once again raising concerns among stakeholders who are calling for more specifics ahead of the planned January rollout.
Chief among these concerns is the cost of the proposed scheme, with one Bahamian likening the government's handling of the issue to a person who promises to treat others to a luxury dinner without budgeting for the event.
Among those who spoke during the town hall meeting were a cancer survivor whose monthly bill once came to $75,000 and a middle aged woman, Carolyn Strachan, who said a friend died last week after suffering a "coronary attack" in the hospital while "three shifts changed" around her.
"You should already know the cost," she shouted, saying Bahamians are tired of being duped by politicians who don't disclose all relevant information upfront.
Among the panelists, an often visibly irritated Chief Medical Officer (CMO) Dr Glenn Beneby spent the night emphasizing that the country must begin somewhere with universal healthcare coverage, even if this means filling out key information gaps and providing key healthcare upgrades in the future.
Tina Cunningham, president of the Bahamas Insurance Association (BIA), sought to emphasize her body's commitment to universal health insurance while prodding the government to provide stakeholders with specifics about its first two phases, the registration phase which will begin in January and the primary care provision phase which will begin in April.
"What will the primary care model give?" she asked, adding that the BIA hopes for changes to the government's current NHI model and a reasonable cost estimation for the scheme.
For well-known physician Dr Duane Sands, the government's insistence on rolling out a primary care phase of NHI without concentrating on providing people with catastrophic coverage is tantamount to ignoring the most pressing healthcare issues facing Bahamians.

"Primary health care will take a generation to see value in," he said.
Peter Deveaux-Isaacs, the Permanent Secretary in the Cabinet Office with responsibility for coordinating the implementation of NHI, sought to strike a conciliatory tone throughout the evening.
While admitting that he does not know what will happen past this current fiscal year with respect to financing the NHI scheme, he stressed that the government will pay for the first and second phases of NHI, ruling out any possible tax hikes.
He said that the government will look at aspects of an alternate NHI plan provided by BIA in order to incorporate some aspects into its own NHI model if it is feasible to do so.
He added that the legislation that will allow for the first two phases of NHI should make their way to Parliament "in a few weeks."