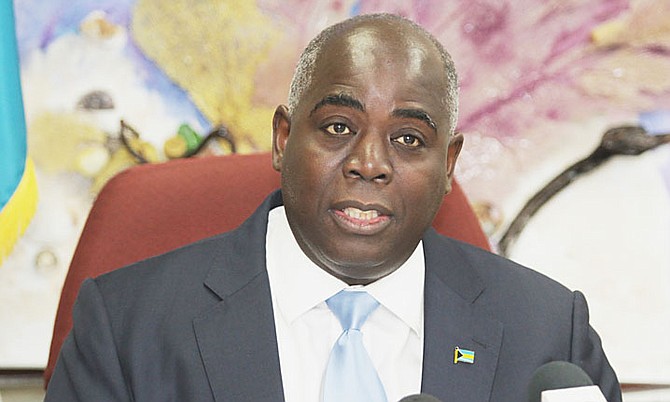 By KHRISNA VIRGIL
Tribune Staff Reporter
kvirgil@tribunemedia.net
WORKS Minister Philip "Brave" Davis yesterday said the Bahamas Electricity Corporation's "disparate" system design requires a major capital investment of at least $450m over the next five years to resolve the many issues it faces.
While Mr Davis did not say how this cost will be financed, he suggested that this will be made possible under the management of US based company Power Secure, which will operate the cash-strapped organisation.
Speaking yesterday in the House of Assembly, Mr Davis said the corporation continues to incur $20m to $30m in losses every year due to an archaic rate structure, which is a financial and operational situation that is impossible to sustain.
He told parliamentarians that BEC is now unable to obtain a credit rating and therefore has no leverage with lenders or suppliers.
He spoke on the current state of BEC as debate began over the Electricity Bill, the Utilities Regulation and Competition Authority (URCA) Amendment Bill, and the Electricity Rate Reduction Bond Bill.
However, Free National Movement Leader Dr Hubert Minnis branded the three pieces of legislation as another tool for the government to impose additional taxes on the working class. He also said that the reform of the electricity sector would likely bring mass layoffs at BEC – as many as 500 job losses.
"For many years now, Bahamians and investors alike have complained that energy costs are prohibitive," Mr Davis said. "Apart from the cost of energy, the security and reliability of energy supply are also frustration concerns.
"The single most important essential (element) to driving down costs that encourage investment, entrepreneurship and ownership relates to electricity.
"This government is committed to take BEC to a position of fiscal and operational good standing."
Once the bills are passed, the corporation will be named Bahamas Power and Light (BPL).
He continued: "The bill also provides for the transfer of corporation staff to BPL and the abolition of offices and posts in the corporation. Every employee shall, during the transfer period, be employed by BPL under terms and conditions of employment that are no less favourable than those which applied to the employees' employment with the corporation. Transfers for the purposes of pension and gratuity benefits, will be treated as continuous employment."
Under the Utilities Regulation and Competition Authority Amendment Bill, URCA will be established as the independent regulator of the electricity sector. It will also enable URCA to discharge its regulatory function in the new electricity supply regime.
URCA will be able to fine BPL in the event of frequent power outages.
Mr Davis further explained that the Electricity Rate Reduction Bond Bill would facilitate bonds in the amount of approximately $600 million, likely to be issued in amounts of around $100m Bahamian dollars and $500m US dollars.
"In the first instance, it will refinance existing financial liabilities of BEC, including bank debts, bonds, and other non-current financial liabilities outstanding," he said.
"Secondly, it will also be a source for currently unfunded pensions and other benefits and rights vested in employees or former employees of BEC, which also represent liabilities of BEC today," Mr Davis said.
However, Dr Minnis questioned the purpose of these bonds and their financial impact on Bahamians.
Dr Minnis said: "The bond will be obtained from Blue Chip Bank and in my mind these bonds will be issued by some foreign bank and the bonds will be issued in American currency at astronomical interest rates presumably six per cent.
"What are the purposes of these bonds? How can we pay these bonds? According to the Electricity Bill there is a bond reduction rate fee, a tax to the consumer.
"Consumers are already paying VAT on electricity, they paying VAT tax on everything and now we are going to have another tax, a bond reduction rate tax. I don't care if you call it a fee whatever you want to call it – it's a tax. Then in addition to that and the VAT there is a surcharge that is another tax."
Mr Davis has refuted that the government is attempting to impose another fee on Bahamians.
The bills were passed in the House of Assembly last night and will repeal the current Electricity Act and the Out Islands Electricity Act.