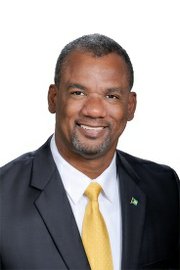 By SANCHESKA BROWN
Tribune Staff Reporter
sbrown@tribunemedia.net
EDUCATION Minister Jerome Fitzgerald denied yesterday that he "blocked" Long Island MP Loretta Butler-Turner from receiving hurricane relief supplies for her constituency that were donated by officials of Claridge Primary School.
In the House of Assembly, Mr Fitzgerald said Mrs Butler-Turner gave "misleading information" to the press and the said the donation had nothing to do with the Ministry of Education but was a Bahamas Union of Teachers (BUT) initiative.
Nearly two weeks ago, Mrs Butler-Turner told reporters she was scheduled to accept the supplies during a special assembly at Claridge Primary. However, she said when she arrived at the school, she was told she could not get out of her car or receive the items because of a last minute decision from the Ministry of Education.
Mrs Butler-Turner said the decision to block the presentation was just the latest in a long line of moves by political adversaries to undercut and hinder her response efforts in the wake of Hurricane Joaquin. She suggested that the directive came from top officials at the Ministry of Education.
Mr Fitzgerald said as far as he was aware, the initiative was spearheaded by teachers of various schools who wanted to help all the islands impacted by Hurricane Joaquin. He added that the donations were not specifically for students in Mrs Butler-Turner's constituency.
"As far as I am aware, the Bahamas Union of Teachers invited numerous shop stewards in various schools towards the hurricane relief efforts for teachers impacted by Hurricane Joaquin. It just so happened that the items that were to be collected at Claridge Primary were to be sent to Long Island, therefore contrary to newspaper reports the items were not for students in the Long Island member's constituency and the PTA at the school were not involved," Mr Fitzgerald said.
"It was purely a BUT initiative. I must admit that we were all surprised to learn about this considering that just weeks before and a week prior, a national school hurricane relief drive was underway and we received contributions from Claridge Primary. Mr Speaker on the afternoon of November 10, while I was in Cabinet, I was contacted by a reporter via text message concerning the matter and responded by saying that 'I was not aware of what he was talking about but I would look into it'. Based on information that he had given to me I told him that it must have been a PTA drive to contribute to the schools in Long Island, however it did appear bizarre that a donation from one government school to another government school involve a third party especially when we had already received a donation from Claridge Primary before and I assumed based on what he said that the PTA must have done a separate initiative. I later learned that this was in fact a BUT initiative and I spoke to the Acting President Zane Lightbourne who confirmed that."
Mr Fitzgerald also said that although the donation was spearheaded by members of the BUT it was not, as far as he is aware, sanctioned by the union.
"This was solely a BUT initiative and the presentation, from what I understand was not sanctioned by the BUT, and I understand it was an affront to the executive. Mr Speaker, let the record reflect that this has nothing to do with the Ministry of Education, Science and Technology and we had already mobilized a hurricane relief drive for all the islands that were affected. It had nothing to do with me and never gave any such directive as it was alleged by the member for Long Island," Mr Fitzgerald said.