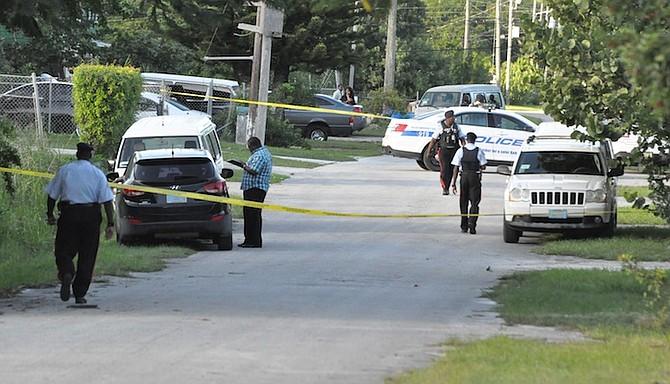 By DENISE MAYCOCK
Tribune Freeport Reporter
dmaycock@tribunemedia.net
A MAN was found shot dead in a vehicle parked at an abandoned building complex in Freeport on Monday, pushing the island's murder count to 17 for the year in Grand Bahama.

The killing brought the country's murder count to 135 for the year, a national record.
Inspector Terecita Pinder said police were called to a vacant apartment complex on Drumfish Drive in Caravel Beach, where they discovered a man in a white vehicle with gunshot wounds to the body.
The victim, who is believed to be in his 30s, was pronounced dead at the scene by a doctor from the Rand Memorial Hospital.
Police are actively investigating the matter and are appealing to anyone with information that can assist them in their investigation to call 242-350-3107 at the Grand Bahama Central Detective Unit, 919/911, or call the nearest police station.
The latest killing came less than a week after Police Commissioner Ellison Greenslade told reporters he was "not surprised" by the nation's rising murder count, adding that he had predicted months ago that the country would continue to have problems if certain changes were not made.
His comments came at a special press conference at police headquarters on November 17, shortly after a man was shot dead in the Nassau Village constituency."

"I'm not surprised," Mr Greenslade said last week. "Despite our best intentions, I foreshadowed this many months ago when I gave you an interview and I said if we do not change our trajectory – not the police department – but if we didn't change generally as a country, look at some policy issues, some legislative reforms issues and some other initiatives, we were going to continue to have problems."
He added: "When we arrest persons in possession of an AK47 type weapon, an illegal firearm with ammunitions and clips…we have to ensure as a people, all of us, that we say, the line has been drawn in the sand and if law enforcement has done due diligence, we must now ensure that those people cannot reoffend and kill people."
"There are some things that need to be fixed, other than arresting people, other than taking bad people off the streets on a given day. I cannot make a bad person who has committed murder, is intent on doing it again, I cannot make him or her change. What I can do is what I have done again this morning, not for the first time, arrest them and take them before the halls of justice and I'm asking that they are not allowed to return to the streets to continue to kill people and to continue to possess guns and travel with drugs."