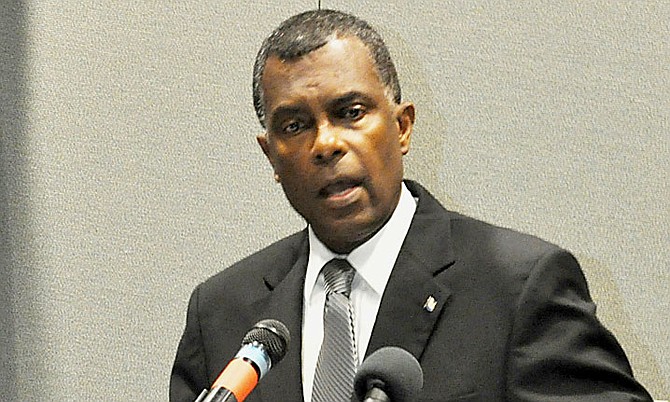 By RASHAD ROLLE
Tribune Staff Reporter
rrolle@tribunemedia.net
LAWYERS from the Office of the Attorney General are reviewing a recent Supreme Court immigration ruling that appears to call into question the government's long established immigration practices, Foreign Affairs and Immigration Minister Fred Mitchell confirmed.
In a ruling released last week, Supreme Court Justice Stephen Isaacs said that the government cannot deport people without first taking them before the courts, a point that contravenes years of practice in the Bahamas.
He also ruled that there are limits to the government's ability to detain those suspected of being in the country illegally,
saying they cannot be held for more than 48 hours unless specific steps are taken before the courts.
His written ruling came after about a month after he ordered the immediate release of Jamaican national Matthew Sewell, 27, from the Carmichael Road Detention Centre after he had spent nine years shuffling between the detention facility and the former HM Prison, Fox Hill, now the Bahamas Department of Correctional Services.
The Grand Bahama Human Rights Association (GBHRA), which has continually fought the government's immigration practices, hailed the ruling as a "game changer," saying it will reverse the status quo concerning how immigration policies are executed in this country.
A failure to follow the ruling will prompt the association to bring a class action lawsuit against the government, a statement said yesterday.
However, on Monday Mr Mitchell dismissed the association's claims when contacted by The Tribune, though he admitted that lawyers for the government are looking into the matter.
"I make it a practice not to believe anything that the Grand Bahama Human Rights Association says, which are largely exaggerations and are not credible," he said.
"When there is a ruling from the court that has been considered by our attorneys in the Office of the Attorney General and they advise us what our position is, then we will take that position. As far as the government is concerned, the Department of Immigration has the full power to repatriate illegal immigrants from the Bahamas."
Attorney General Allyson Maynard Gibson could not be reached for comment on the matter this week, though State Minister for Legal Affairs Damian Gomez said she is looking into the matter.
In a statement to The Tribune yesterday, the GBHRA threatened to bring a class action lawsuit against the government if it does not reverse its immigration practices.
"The government must simply obey the law. The judge was crystal clear: the manner in which the Immigration Department has been carrying out its detention operations is illegal," the GBHRA said.
"If there is any further delay in the granting of full constitutional rights to current immigration detainees, as outlined in the Constitution and reinforced by this ruling, the GBHRA will have no choice but to take out a class action lawsuit on behalf of all persons being illegally held by immigration officials."