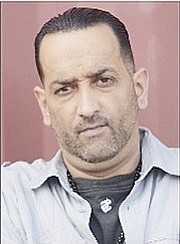 By NAUGHTY
naughty@tribunemedia.net
HAPPY Thanksgiving everybody.
Despite going 7-7 last week, my Cowboys shed that gargantuan monkey off their backs with a long overdue win in Miami, and started their march to the NFC East division title and the playoffs. Here's who I like this week other than turkey, mash potatoes, macaroni and cheese, candied yams and pumpkin pie.
Short and sweet - I have gluttony to attend to.
Eagles v Lions
The Eagles are injured and Chip Kelly is proving to be another great college coach turned dud in the NFL (Kelly will be coaching USC next season, watch and see.)
The Lions have been hot as of late and continue to sizzle at home in this one. I like the Lions to attack the porous Eagles secondary, en route to the home win, as the Eagles round in to form of that 5-11 team I predicted they would be at the start of the season.
Lions 27 Eagles 24
Panthers v Cowboys
Romo is back and so is the confidence in the Dallas locker room.
The Panthers are a very good squad - but not as good as their 10-0 record indicates.
Throw in a key suspension and injuries as well as the fact that Panthers are due for a loss, and you've got the Cowboys on a two-game winning streak and the Panthers taking their first 'L' of the season.
Cowboys 27 Panthers 24
Bears v Packers
The Packers continue to right the ship after three straight losses.
They stay on course this week with a big division win against a hated rival.
Packers 34 Bears 27
Vikings v Falcons
Injuries continue to hamper the Falcons, while the Vikings have been steady despite last week's loss.
I like the Vikings to get back to their winning ways this week on the road in the upset against a fading Falcons squad, losers of four in a row coming into this one after a 6-0 start to the season.
Vikings 21 Falcons 20
Rams v Bengals
Bengals get it 'right' at home after back-to-back loses.
Jeff Fisher is coaching for his job in St Louis: he'll have to win and make the playoffs to keep it. He doesn't get any job security this week.
Bengals 31 Rams 23
Raiders v Titans
Coin toss ... Raiders on the road despite the odds.
Raiders 23 Titans 27
Buccaneers v Colts
Injuries, and all kinds of behind the scenes 'weirdness' have the Colts beatable.
Quietly, Lovie Smith has his squad playing at a high level over the last few weeks.
Jameis Winston continues to mature over the next couple of weeks, the Buccaneers get a big win.
Buccaneers 24
Colts 23
Bills v Chiefs

Coin toss - Chiefs at home.
Chiefs 27 Bills 20
Dolphins v Jets
Both teams come in on losing streaks, one gets back on track this week, the other to irrelevancy.

Jets 24 Dolphins 20
Giants v Redskins
The Redskins get a big home win, in a tight division, further sullying the division to the benefit of my Cowboys.
Redskins 24 Giants 20
Chargers v Jags
After two abysmal outings, the Chargers need to focus on next year - this year is done for them.
The Jags hang tight in the AFC South division, looking like the team to hear right now.
Jags 27 Chargers 24
Saints v Texans
Despite injuries the Texans are hanging in there, and play solid defence at home.
I'm scratching off the Saints on my contenders list and adding them to pretenders; you never know which teams show up with them (Saints)
Texans 24
Saints 23
Cardinals v 49ers
Seriously you want me to write in this?
Okay, Cardinals continue to dominate and win on the road.
Cards 31 Niners 17
Steelers v Seahawks
The Seahawks continue to be inconsistent, while the Steelers are resilient.
Steelers 24 Seahawks 20
Patriots v Broncos
Broncos have no Peyton Manning. They also now have little chance to win with him absent.

Patriots 27 Broncos 20
Ravens v Browns

Both teams suck - neither is worth the quarter I'm using to toss!
Coin toss ... Ravens on the road.
Ravens 26 Browns 23
• Naughty presents 'Mischief and Mayhem in da AM' from 6am to 10am, Monday to Friday and 'The Press Box' sports talk show on Sunday from 10am to 1pm, on KISS FM 96.1. Comments and questions to naughty@tribunemedia.net