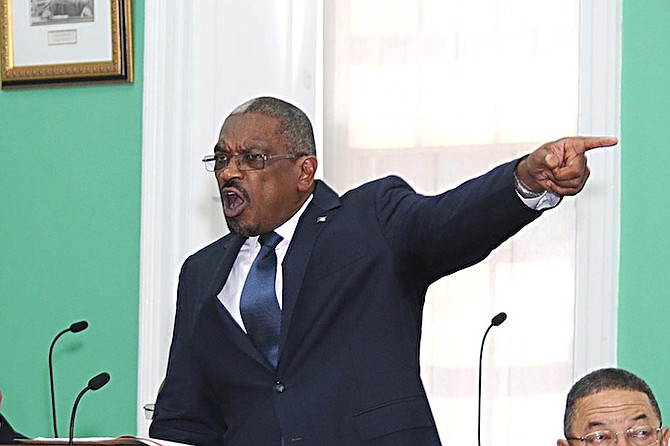 By AVA TURNQUEST
Tribune Chief Reporter
aturnquest@tribunemedia.net
FREE National Movement Chairman Michael Pintard said yesterday that party leader Dr Hubert Minnis would like to have a full convention ahead of the next general election, but on his own terms.
Mr Pintard said none of the public critics of Dr Minnis had the capacity to force him into a leadership contest as he defended the leader against scathing criticism from the party's former chairman, Darron Cash, and reports that several FNM MPs had no confidence in him.
While he insisted that the party welcomed Mr Cash's independent views, Mr Pintard said his claims that Dr Minnis could not lead the party to a general election victory were "absolute nonsense".
Mr Pintard added that had he been in Mr Cash's position as a former chairman, he would not have made the public comments.
"The leader of the Free National Movement won by a tremendous margin," Mr Pintard said. "So for him to engage in discussions about convention in the first year, less than the first year of his administration, would have been nonsensical. So we support him wholeheartedly, the leader's position there would be no convention (this year).
"But the leader has also made the point that he would like during his administration to have a full fledged convention. I would not pre-empt him in giving that date but the leader does not have a problem with convention, but he will make that determination.
"None of the persons who speak publicly have the capacity to force him to make that decision on their terms. He will make that determination in conjunction with the party (before the next election)."
In a statement on his Facebook page on Tuesday, Mr Cash insisted that Dr Minnis is not moving the FNM in the direction of a decisive 2017 general election victory, and that the issue was compounded by the public image that the party was not united. Mr Cash was supported by lawyer Michael Scott, who has acted as the party's legal advisor, who commented that very few bought into Dr Minnis as the party's leader.
Mr Cash's post followed a report in The Nassau Guardian's National Review section this week, that claimed several FNM MPs had no confidence in Dr Minnis and were plotting to petition Governor General Dame Marguerite Pindling to have him removed as leader of the Official Opposition.
Yesterday, Mr Pintard declared that if a convention were held today, Dr Minnis would win by an overwhelming majority.
He advised Mr Cash and party supporters that there was no need to "fret over rumours" and insisted that Dr Minnis was in "firm charge" of the organization.
Mr Pintard said he was unconcerned by the reports, adding that Dr Minnis had enjoyed the full support of his colleagues at a meeting on Tuesday. He stressed that every MP has publicly pledged their support for the leader to date.
On the matter of leadership, Mr Pintard said: "Of course we can win with Dr Minnis. We have a number of persons, the former deputy leader (Mrs Butler-Turner) who was a contender we can win with her as well.
"All three of the persons who contended for deputy, we can win with them. We clearly have the talent in the party to succeed in the next general election but more important than succeeding we have the talent to address these dire issues affecting Bahamians. Because that's what it's about, it's not just about winning. (Prime Minister Perry) Christie has demonstrated the PLP's capacity to win, but they are unable to govern effectively."
Mr Pintard argued that there was a disproportionate amount of media attention given to evaluating the FNM's leadership as opposed to holding the government accountable on the PLP-led government's failures.
He pointed out that Mr Cash was a member of the FNM executive and council, who had full access to the leadership of the party if he wished to discuss his concerns. Mr Pintard also noted that Mr Cash had recently "affirmed his commitment" for Dr Minnis.
While he said that Mr Cash did not call him ahead of the controversial social media post, Mr Pintard maintained the former chairman had done "heavy lifting" for the party and had the right to share his views.
"I would not have posted it if I were in his position," he said, "as a former chairman of the party I would not have posted it, but I respect his right to express his views because no doubt he has a constituency of his own that he is speaking to – a group of independent thinkers out there.
"I can't say to the guy don't appeal to your base, but if I was in his position I would not have."
Dr Minnis was re-elected as FNM leader in November 2014 beating out contender Long Island MP Loretta Butler-Turner, the party's former deputy leader.
However, this year Dr Minnis has been dogged by criticisms over his leadership and speculation over whether he enjoyed the full support of his party. Some FNMs have called for another convention this year to solve leadership issues. However, the party is only mandated by its constitution to hold a convention every two years.
Yesterday, Mr Pintard agreed that the public commentary did not "help the cause" and that at times it presented a distraction from the party's goals. He noted that there was some anxiety among supporters over the stalled rollout of candidates; however, he said he could not assess whether this had affected the spike in rumours given the reports emanated from anonymous sources.