AS BAHAMIANS slept this week tropical storm Joaquin wandered into our waters "on little cat feet", but unlike Carl Sandburg's fog it didn't move on, rather it moved up our island chain growing from nothing into a giant and destructive hurricane.
Joaquin formed in the Atlantic on Monday — the 10th named storm of the season. However, forecasters seemed more interested in Hurricane Marty that was moving toward the south-central coast of Mexico in the eastern Pacific.
"The US National Hurricane Centre in Miami said that Tropical storm Joaquin was centred 400 miles northeast of the central Bahamas late Monday. It had maximum sustained winds of 40 mph and was moving southwest at 5mph. There were no coastal watches or warnings in effect, but the centre said the storm was expected to strengthen during the next couple of days," reported the Fox News Centre.
But no one paid any attention. At the time Marty, already a substantial hurricane, was taking centre stage. The hurricane season – officially from June 1 to November 30 — had been very quiet. No storms threatened our area. The season was coming to an end and Bahamians — although NEMA was releasing information about hurricane shelters — paid no attention. We slipped through last year without even a hurricane warning. Presumably we believed we were high and dry and would get through another hurricane-free year.
Meanwhile, forecasters were distracted by Marty, which was expected off the southwestern coast of Mexico on Tuesday and Wednesday. While forecasters were warning of "significant coastal flooding" for Mexico, Joaquin was quietly preparing to make its own grand entrance while Bahamians slept.
We first learned of Joaquin's existence around 6am on Tuesday. The Tribune's Robert Carron was at Miami International airport on his way to Atlanta when he turned on his mobile about 5:15am. There he found a weather alert from AccuWeather indicating severe weather in the area.
"I almost didn't pay any attention to the notification as I believed it was the usual thunderstorm," he said. "I happened to see what looked eerily like a Hurricane, except it was moving SW towards The Bahamas. I had to double take. I refreshed the screen a couple of times just to make sure I was correct, and low and behold, there was a strong tropical storm near hurricane strength bearing down on the southern islands. I checked with AccuWeather that informed me that the National Hurricane Centre would be issuing a Hurricane watch on the tropical storm. I then phoned the JAMZ staff in Nassau and they started to broadcast the warnings."
Robert cancelled his flight to Atlanta and took the first flight leaving Miami for Nassau.
Early that morning the information was on The Tribune's 242 web site (www.tribune242.com). We believe that The Tribune and its radio stations were the first to alert Bahamians of the approaching danger. From a tropical storm on Tuesday, before midnight Thursday it was a category 4 hurricane with winds of 130 mph. While the southern islands were being devastated, Nassau was anxiously awaiting news as to whether it was about the make the predicted turn away from us.
Today's Tribune is filled with reports of frightening destruction and desperate Bahamians. The main complaint was that they had no prior warning so that they could find shelter.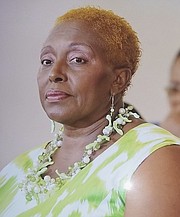 Up until midnight last night Ketra Pratt in Nassau still had no word of her mother in Acklins. NEMA promised to help, but when Ms Pratt checked with NEMA at 11:45 pm, she was told that Acklins was still out of contact.
Miss Pratt was talking with her mother, who was standing ankle deep in water in her home, waiting to be rescued. The time was 10am when suddenly the phone went dead. Since then there has been no further contact.
"This is Anita Pratt in Acklins," said Mrs Pratt as she introduced herself to the ZNS interviewer on yesterday morning's news. "Right now," she said, " the sea water is in my yard and in my house, it's ankle deep now. I have been trying to get someone for two hours to come to rescue me. I have seen absolutely nobody. I saw one car go up and come back down and passed through… It's bad in Acklins!
"I live about 300 feet across from the bay. The water is in my house right now, it's up on the porch and in my house." She asked for the public's prayers. She explained that she had asked the administrator from 7 am when the road was clear."
She then broke down. "Nobody cares about anyone in Acklins," she cried. "They didn't even have a meeting, no shelters are open… this is slackness and a downright disgrace!"
Mrs Pratt, who is the aunt of Tribune staff member Kenva Hunter-Roxbury has a tea company in Acklins. She harvests her tea in Acklins and sends the leaves to Nassau for packaging and sale.
Today's Tribune brings our readers many heartbreaking stories. As we wrote this article after midnight, the evening was still calm, with the first rain bands starting to pass through. The forecasts looked as though Joaquin had started to inch away from us, taking an upward path to the north.
As Dr Jeff Masters, co-founder of Weather Underground, reported "ocean temperatures in the region remain a record-warm 30°C (86°F), but may start to cool due to Joaquin's slow motion. This cooling of the waters could well put the brakes on further intensification by Friday morning".
Hopefully this is the final chapter of Jaoquin in The Bahamas. It's now up to all Bahamians to come together to assist those in the Family Islands who have suffered so severely.