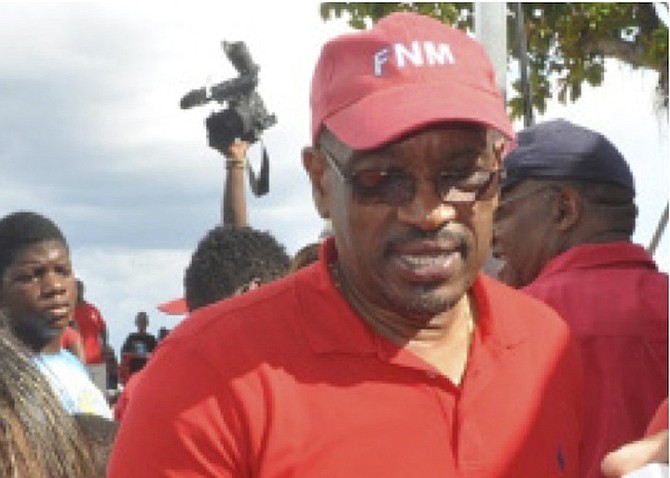 By RICARDO WELLS
Tribune Staff Reporter
rwells@tribunemedia.net
FREE National Movement Leader Dr Hubert Minnis yesterday called for persons donating to Hurricane Joaquin relief efforts to make all donations to the Bahamas Red Cross Society and its verified partners.
In a post made to his Facebook page Monday morning, Dr Minnis recommended that supplies be donated to the Red Cross, as the organisation was the best equipped to distribute funds and supplies to all of the affected islands.
He warned that other relief drives, foreign and domestic, may become "counter productive and cause confusion."
He said: "Government agencies and other disaster relief non-profits will find it harder to do their jobs because valuable personnel will be focused on monitoring these various groups to make sure that distributions of these supplies get to those in need."
The Killarney MP said a more "coordinated effort" would better serve all of the victims.
According to Dr Minnis, a plane carrying relief supplies into Long Island from Florida recently landed there, but officials had "no idea" what was distributed and to whom.
"The company owner stated that no one here was organised so they decided to take matters into their own hands," Dr Minnis said. "Help is always appreciated and welcome, but we are asking everyone to provide assistance through the proper channels."
According to international reports, Rob Ceravolo, owner and operator of Tropic Ocean Airways, a Florida-based private air fleet is said to have delivered five separate seaplane loads of supplies to islands in the southern Bahamas since Saturday.
Mr Ceravolo told a Florida news station on Sunday that due to a lack of an organised effort by the Bahamian government, he sprung into action to aid and assist as many people as he could.
Dr Minnis' post received mixed reviews, with some on Facebook commenting that private citizens and groups had immediately responded to those in distress compared to a "slow" response from the government.
One commenter said Dr Minnis' post was "insulting and inaccurate."
"(When) the private sector was delivering food and water and helping people find their families . . . your beloved government agencies were trying to catch rides on TIA's (Trans Island Airways) planes," the angry commenter wrote.
There have been a number of relief drives across the country, the region and North America in the days after the devastation of Hurricane Joaquin.
In particular, residents and descendants of Long Island have established a number of relief initiatives with the primary goal of sending supplies to the community. TIA also partnered with Long Island MP Loretta Butler-Turner last week to help coordinate relief efforts there.
Long Island, Acklins, Crooked Island, Rum Cay and San Salvador are all reported to be in need of major help moving forward.
Dr Minnis stated that while the "coming together and putting aside all differences for the greater good" has aided the psyche of every Bahamian affected by Hurricane Joaquin, more still needs to be done to ensure that all islands are taken care of.
On the weekend, Dr Minnis travelled with a government delegation led by Prime Minister Christie to some areas affected by Hurricane Joaquin.
On Monday he led an FNM delegation on a tour of Crooked Island and San Salvador.
Hurricane Joaquin slowly churned over the central and southern Bahamas on Thursday and Friday, bringing torrential rain and storm surges. The storm hovered over Long Island for nearly 24 hours, destroying homes, uprooting trees and power lines and leaving heavy flooding in its wake. Homes and buildings were also destroyed in Rum Cay, Acklins, Crooked Island and San Salvador.
Some residents on those islands have reported that they escaped dangerous, chest high storm surges by fleeing their homes to seek refuge in cars or other buildings.