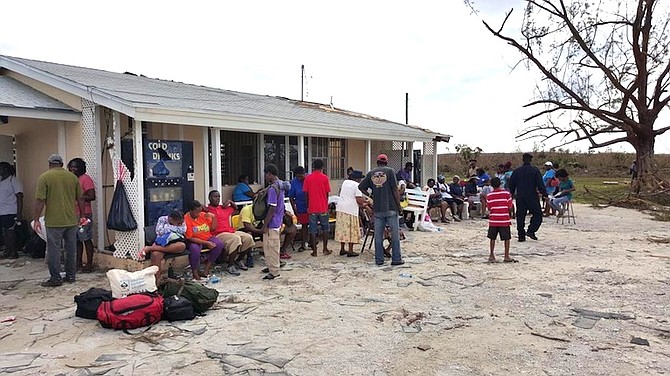 By KHRISNA VIRGIL
Tribune Staff Reporter
kvirgil@tribunemedia.net
NEARLY 50 residents from Crooked Island were last night evacuated from that island's most devastated settlements in the wake of Hurricane Joaquin, which has left many areas underwater and families homeless.
The 46 residents who were flown to New Providence were mostly women and small children who were in need of medical attention after receiving minor cuts and bruises, according to Police Commissioner Ellison Greenslade yesterday.
The island has a few hundred residents.
According to the commissioner, some members of the group were evacuated by a crew in a Royal Navy helicopter, while a number of small aircraft operators later stepped in to help. This came after he made a public appeal on Twitter for the residents to be airlifted from the island.
He told The Tribune if the evacuation did not take place, many residents would have to either sleep outside, in flooded cars, or in puddles of water.
During a tour of the devastated community yesterday with an FNM delegation headed by Dr Hubert Minnis, a nurse on the island told The Tribune that there were women and children who needed tetanus shots. However, she said, as the necessary medication was not available there, the residents would need immediate airlift to the capital to be treated.
When this newspaper arrived at Crooked Island, scores of residents had just been brought by helicopter from Landrail Point and surrounding settlements – which are completely inaccessible because of debris and flooding – to the Colonel Hill airport.
The scene there was sombre as children clung to their mothers and others sat in disbelief that all of their possessions were completely lost due to Joaquin's strong winds and storm surges.
Many of them said they were hungry and appealed to anyone who could help to send food, water and tarps to cover their roofless homes.
They said they were anxious to arrive in Nassau where they were hopeful of making contact with relatives who would assist them with meals and a warm place to sleep.
"I gave them my word that I was going to get them out," Mr Greenslade said as he and a team of officers delivered much needed supplies.
"They are at the airport in Colonel Hill waiting for anyone to get them," he said, before the group was evacuated. "This is my SOS - these people are hungry and tired and have not slept in a long time, they need to get New Providence. I was just flying over and we saw them so we stopped. These are mothers and fathers and children. Some of the children have nails in their feet and so we had to get a medical doctor and a nurse to them and make a temporary clinic to provide some relief.
"Hopefully, someone will help these people. This is time to be our brother's keeper. I would say they can sleep by a neighbour but there is no neighbour everything is destroyed."
The commissioner also made an appeal on Twitter to have the residents flown out of Crooked Island.
"Please help the people at Colonel Hill Airport to get to Nassau before sunset. They need airlift. Forty-six people and counting," he tweeted.
On Saturday, Prime Minister Perry Christie said the government would spare no effort to bring help to Crooked Island but said relief efforts were hampered by damage to the airport.
Dozens of residents in the southern Bahamas were trapped inside their homes from floodwaters during the slow but extremely dangerous passage of Hurricane Joaquin on Thursday and Friday.
The storm also brought major damage to Long Island where buildings were damaged and in some cases destroyed and heavy flooding made some areas inaccessible.
There was also severe damage to Rum Cay, San Salvador – where the airport and nearby Club Med Columbus Isle resort suffered the full force of Joaquin – and Cat Island from the storm.