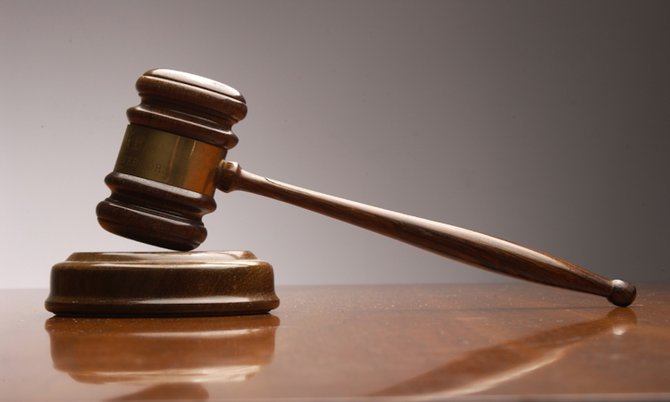 By LAMECH JOHNSON
Tribune Staff Reporter
ljohnson@tribunemedia.net
THREE men allegedly told police of their direct involvement or lack thereof in the events that led up to the fatal shooting of an American tourist, a jury heard yesterday in the Supreme Court.
Superintendent Perry Clarke testified of speaking with two men who were turned over to him concerning the May 12, 2013 murder of Kyle Bruner, who was shot a few feet away from the Paradise Island Bridge.
Bruner, an American sailor who had been working as first mate on the Liberty Chipper sailboat that was docked at Nassau at the time, was shot in the neck trying to help two women who were being mugged by two armed men early on a Sunday morning.
Leo Bethel, 21, Craig Johnson, 22, Anton Bastian, 21, Jamaal Dorfevil, 30, and Marcellus Williams, 23, are alleged to have murdered Bruner on the day in question.
They are also alleged to have accosted two women while armed with a firearm, robbing one of $150 cash and her $3,000 handbag and the other female of cash, a handbag and an iPhone.
In yesterday's proceeding before Justice Indra Charles, Supt Clarke spoke of his involvement with the case.
He said shortly after the murder, while he was with a woman sergeant, he received a call from a Kemp Road resident whom he knew.
"He gave me certain information and seconds later, pulled up in a car and introduced a young man to me whom he identified as his son, Anton Bastian. The father told me police were looking for his son but he gave him to me so police wouldn't beat him. I took him (Anton) and I cautioned him with reference to this matter."
The officer said Bastian then told him: "I was at Double D's when the 'vibe' gone down. One dude name Craig Johnson who live off St James Road had the gun and he shot the white man."
The officer said he arrested Bastian and took him to the Central Police Station.
Around 3.20pm on the same day, the officer said he received another call from Anton Bastian's father "and he gave me certain information."
"Then I received another phone call from a male who identified himself to me as Craig Johnson," the jury heard.
The witness said he and another office left police headquarters and went to Clarke's Alley in a marked police vehicle where they met the young man who confirmed his initial identification.
After cautioning him with reference to the matter in question, Supt Clarke said Johnson's response was: "Boss, I gone tell you the truth."
"Me and my friend Bastian went to Double D's and met a friend who gave us a couple of dollars. I saw the white man who tried to take my gun and it went off. Later on I hear all kind of people say I murder the man. I just want to clear my name," Johnson allegedly told Supt Clarke.
Johnson's lawyer, Nathan Smith, asked Supt Clarke if his client was "cooperative."
Supt Clarke agreed that this was the case.
Roberto Reckley, lawyer for Anton Bastian, asked Supt Clarke if he made notes of his exchange with his client on the day in question.
The officer said he did.
Mr Reckley suggested to the witness that his exchange with his client "went much different than that."
Supt Clarke disagreed.
"You went on to ask him if a Kemar Lloyd shot the tourist, did you not?" the lawyer suggested.
"That never happened, sir."
"Isn't it true that Mr Bastian said he didn't know anything about any murder that's why he turned himself in?" the lawyer asked.
"No, he didn't," Supt Clarke said.
Corporal Melbert Munroe then gave testimony about a record of interview he sat in on between Marcellus Williams and an officer identified as Inspector Johnson on May 15.
Cpl Munroe said Williams was asked a series of questions and he told police he was at Double D's with "Craig and Leo".
Cpl Munroe said the accused told him that he heard Leo say: "See some white people."
Moments after getting out of the vehicle they were in, "I snatched the woman's purse and run off," Williams allegedly told police.
"He said he heard a gunshot but couldn't say who fired the shot," the jury heard from the witness.
Cpl Munroe told prosecutor Ambrose Armbrister that no officer beat Williams to obtain this evidence.
In cross-examination, attorney Walton Bain suggested to the witness that Williams was initially interviewed at the Wulff Road police station that morning where he was allegedly suffocated, punched and kicked by him and Insp Johnson.
Cpl Munroe denied the suggestion and the subsequent claim that the police denied Williams access to a phone to call his lawyer.
Ian Cargill represents Bethel while Dorfevil is defended by Sonia Timothy.
The trial resumes today.