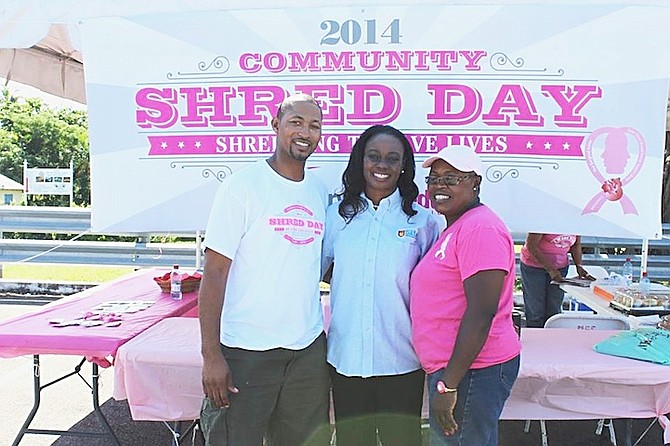 By ALESHA CADET
Tribune Features Reporter
acadet@tribunemedia.net
BAHAMIANS are being asked to do their part for breast cancer awareness while at the same time taking advantage of an opportunity to safely destroy old documents with valuable information.
For the past seven years, Sunryse Shredding and Information Management has been using their expertise to help in a unique way. Every year, the local company designates one day in October as "Shred Day". During this day, they to provide free services for the most part, shredding confidential documents for Bahamians.
The first 100 pounds are free, and 35 cents a pound thereafter. For every 10 pounds shredded, the company will donate $1 to the Sister Sister Breast Cancer Support Group.
This year's Shred Day is expected to take place next Thursday on the Western Esplanade, from 7am to 6pm. Corporate and individual donations are welcomed.
"Our aid is directed towards supplying chemo ports for breast cancer patients. Those things are very expensive and a lot of people cannot even afford them. Sister Sister tries to help along with other organisations, and we decided to help because they don't get the funding that some of the other groups do," said Marcian Cash, general manager at Sunryse Shredding and Information Management.
While promoting awareness of breast cancer in the country, the Shred Day initiative also focuses on ensuring a people's business remains their own by shredding personal documents.
"We are a business to business companies, so typically our communication is between us and other formal businesses like banks and insurance companies, but we don't typically get to the normal everyday consumer," said Mr Cash.
"However shredding is something these days that is important to even the normal everyday consumer. Most people would ask, 'What are you talking about? Why should I have to shred my documents?' Well, there is a lot of fraud going on, identity theft, and certain documents people just take for granted like their invoices, statements and personal letters. They are just throwing them in the trash, which is a really bad idea. It is not only a bad idea because you have local people who are looking for that information, but the world is looking for the information as well. Everybody wants to have different aliases and operate under your identity."
Mr Cash said the company is trying to sensitise the public to the fact that they should be destroying the documents with privileged information.
Next Thursday, they are giving Bahamians a chance to do this and support the Sister Sister organisation at the same time. Additionally, Shred Day is not only limited to documents; the Sunryse team will also destroy cellphones and compute hard drives.
Persons can also assist with raising money by liking the company's Shred Day advertisement via its Facebook page, Sunryse Shredding and Information Management. For each 'like', the company will contribute towards breast cancer awareness.
"Cancer is something that is pervasive in the Bahamas and we have such a small genetic pool that obviously anything that affects one affects just about everyone," said Mr Cash.
"Of course there is the argument that the detection rate has gone up, and we want to continue the detection rate going up. The only way to do that is to sensitise people that they need to be tested. We have to keep breast cancer at the forefront of people's minds. If they are thinking about it, then they are obviously going to do something, and if they do something we can avoid a catastrophe."
He said his team is excited to be a part of this initiative.
"We try to be good corporate citizens and try not to self-promote very much. In fact, this is the only instance where we put ourselves out there. As the company grows, I do see us doing much more," said Mr Cash.