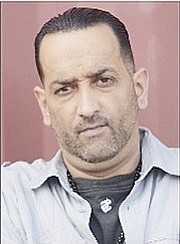 By Inigo 'Naughty' Zenicazelaya
AS we try to rebuild our southern islands in the wake of Hurricane Joaquin, I have to admit seeing Bahamians regardless of race, creed, denomination or political affiliation, unite for the common good of our brothers and sisters in those areas is truly humbling.
We - Bahamians - working together getting it done. Ah, what a sight for sore eyes! Further proof goodwill still exists in our nation, despite the daily doom and gloom in the headlines.
My late mother, Marlene, was a huge philanthropist. Anyone reading this who knew her can surely attest she had her many charities and causes. My mother gave tirelessly to all of her charities equally, all while teaching me that old adage "there but for the Grace of God go you or I."
What can I say? My Mom raised me right, so giving back to the community in the form of charitable events or fundraisers is 'old hat' to me.
Not to mention my late grand father K M Thompson, who was the founder and Charter President of The Nassau Lions Club (with the assistance of a couple of fellows with the last name Dupuch).
Assisting those in need is in my blood, so diving into the SOS - Save Our South project with Radio House, The Tribune and the HeadKnowles group was as the youngsters say 'like zero'.
The aim is to bring much-needed relief and funding to rebuild our southern islands, not just now after the immediate impact of Hurricane Joaquin, but for the rebuild in the future as well.
Plus I can't have my Mom looking down from heaven giving me 'the eye' (if those kind of looks are allowed in heaven) for not doing something she would have expected me to do!
WE ARE FAMILY
While 'catching a five' during the first SOS radio remote on Saturday at Island Cellular, I had the opportunity to talk a little baseball with some of my 'Long Island' home boys, who like me were trying to escape the sombre reality of the tragedies that existed in our southern islands for a brief moment.
One of the 'old timers' who wishes to remain nameless in this column (because he's also a Dolphin fan) brought up one of my earlier SMM columns, complimenting me on calling the Kansas City Royals as the team to beat in the American League.
Yes I did, didn't I?
As we talked, another small market team making a comeback this season, the Pittsburgh Pirates, came up. It was fun reminiscing about their last World Series winner back in 1979, filled with a lineup of All Stars and future Hall of Famers. Take a look for yourself. (SEE TABLE)
• Here is the starting lineup, and if that's not impressive enough, look closely at the names comprising their deep and talented bench.
I can hear still hear "We are Family" by Sister Sledge blaring in the background as I think back to the Pirates beating the Baltimore Orioles in the 1979 World Series, with a roster so laden with talent most expected the Pirates to make numerous return visits. Shockingly the wait continues to this day.
However with the Pirates gaining a wild card berth in the NL playoffs, that may change rather quickly. Especially if the Pirates can pull a page out of the book of those 2014 AL wild cards, the Kansas City Royals.
The same Royals squad who rode their post-season wild card berth all the way to the seventh game of the World Series, finally losing to the San Francisco Giants.
If the Pirates can duplicate the feat, the wait will turn out to be well worth it for long suffering Pirates fans.
In fact the more I think about it, I like a Pirates v Royals World Series.
Brian Ambi you might be on to something.
As I drove home from a tiring but very rewarding SOS event, my mind ran to another legendary Pittsburgh Pirate who was a giant on the field and even bigger off it.
I'm referring to none other than Roberto Clemente.
CLEMENTE
THE GREAT
Roberto Clemente began his professional baseball career just after finishing high school.



He signed a deal with the Brooklyn Dodgers and played with their minor league team, the Montreal Royals, for a season. The next year he went on to play for the Pittsburgh Pirates and made his major league debut in 1955.

Clemente hit an impressive .311 in 1956, but he struggled with injuries and the language barrier early in his career.
He hit his stride in 1960, batting .314 with 16 home runs and 94 RBIs to earn his first All-Star berth and help the Pirates win the World Series. The following year, he led the National League with a .351 average, slugged 23 homers and won his first of 12 consecutive Gold Glove Awards for fielding excellence.
As the decade progressed, Clemente established himself as one of the top all-around players in baseball. He won three more batting titles, and twice led the league in hits.
Clemente also possessed one of the most fearsome arms ever witnessed in the sport. Clemente's 'Bazooka-like' arm made today's 'Cannon Operators' such as Alex Gordon, Yasiel Puig and Yeonis Cespedes look like toy 'pop guns'.
Clemente enjoyed perhaps his finest season in 1966, batting .317 with a career-best 29 homers and 119 RBIs to win the NL Most Valuable Player Award.
Unbeknownst to baseball fans, what would turn out to be his curtain call in the majors came in the 1971 World Series against the defending champions, Baltimore Orioles. Clemente put on a show, batting .414 with two home runs to help Pittsburgh defeat the favoured Orioles.
Late in the 1972 season, he became the first Hispanic player to reach 3,000 career hits.
Clemente was larger than life on the field and equally as large off of it. Renowned for his humanitarian work, he died in a plane crash on December 31, 1972, en route to bringing much needed supplies to survivors of an earthquake in Nicaragua.
The following year he was elected to the National Baseball Hall of Fame. He became the first Latino to be inducted.
Clement was considered a 'gentleman' off the field proud of his Puerto Rican roots and a champion for minority rights.
Hopefully, in some small way, we can attain the lofty heights of Clemente's legacy in our efforts with SOS - Save Our South. If so, I know it will be a Hall of Fame feat. Until next week - donate to SOS - Save Our South (see main section, pages 6 and 7, for details).
• Naughty presents 'Mischief and Mayhem in da AM' from 6am to 10am, Monday to Friday and 'The Press Box' sports talk show on Sunday from 10am to 1pm, on KISS FM 96.1. Comments and questions to naughty@tribunemedia.net