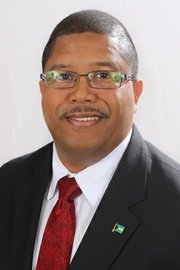 By RASHAD ROLLE
Tribune Staff Reporter
rrolle@tribunemedia.net
FREE National Movement Deputy Leader Peter Turnquest said yesterday that stakeholders should consider whether it is wise to rebuild islands like Crooked Island following the devastation that Hurricane Joaquin has left in its wake.
In the wake of the category four storm, some Bahamians have suggested that it may be in the country's long-term interest not to focus costly recovery efforts on rebuilding an island that may prove particularly susceptible to climate change's harsh impact.
"I think all sensible people would want to consider those kinds of things," Mr Turnquest said yesterday at a press conference at FNM headquarters, when asked to respond to this suggestion.
"Unfortunately, we live in very low-lying areas and there are very few places that you can rebuild that will provide you with any significant amount of protection from these things and, of course, we have to consider the transitional, generational living accommodations of these communities. Certainly I would not suggest that we would want to engage in any of that kind of discussions without the residents, being the chief stakeholders, having the predominant say. I take the point that we do have to be aware and cognisant of the fact that we do have global warming and climate change and they are going to have an affect on these communities in the long-term."
"How exactly we go about rebuilding and ensuring that the infrastructure is built in a manner that is going to be sustainable, I would leave that to the engineers and planners, but it is a legitimate consideration."
FNM Leader Dr Hubert Minnis and members of his party travelled to Acklins, Crooked Island and San Salvador on Monday to assess the area. Dr Minnis was also part of a delegation led by Prime Minister Perry Christie which visited storm affected islands over the weekend.
Dr Minnis said on Saturday, the FNM set the wheels in motion to mobilize resources in order to reach affected residents and assisted in the coordination of more than five flights and more than a dozen motor vessels into various islands carrying needed supplies.
He said the FNM established a command centre on Monday night to better help coordinate the assistance being offered.

He said the party also intends to work with all government agencies and directly with residents on the ground.
He said the party has also secured $25,000 worth of construction supplies for the Family Islands.
Forty-six residents were evacuated from the most devastated settlements in Crooked Island on Monday with the help of British naval planes and small aircraft operators.
A few hundred residents live in Crooked Island.
Police Commissioner Ellison Greenslade has told The Tribune that if the evacuation had not taken place, many residents would have had to sleep outside or in subpar conditions.
One woman, Cynthia Williams, had spent nights since the storm passed sleeping in a nearby airplane hangar with her son while some people shared homes with upwards of 20 people.
When this newspaper arrived at Crooked Island Monday, scores of residents had just been brought by helicopter from Landrail Point and surrounding settlements – which were completely inaccessible because of debris and flooding – to the Colonel Hill airport. The scene there was sombre as children clung to their mothers and others sat in disbelief that all of their possessions were completely lost as the result of Joaquin's strong winds and storm surges.
Many of them said they were hungry and appealed to anyone who could help to send food, water and tarps to cover their roofless homes.
Homes and buildings across the island were destroyed by the storm. Walls were knocked down, roofs torn off and floodwater gushed into the structures. Power lines and trees were also uprooted by Joaquin's wrath.
Long Island, Acklins, Rum Cay and San Salvador were also battered by the hurricane.
Prime Minister Perry Christie, representatives of the National Emergency Management Agency (NEMA), a government delegation and members of the media travelled to Crooked Island and other southern islands for an assessment and aid distribution on Tuesday.