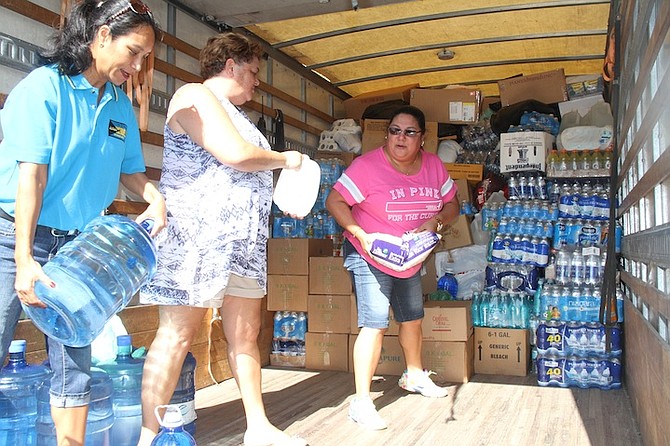 DROP OFF SITES
Radio House and The Tribune, Shirley Street.
Genesis Academy, Shirley Street, 8.30am-4.30pm Mon-Thu, until 3pm Fri.
Odyssey Aviation
Seahorse Institute
Kitchen Deli
Furniture Plus warehouse
New Oriental Laundry at Prince Charles Drive, Mackey Street, Golden Gates, Cable Beach
Bahamas Bus and Truck Company on Montrose Avenue and Tenwich Street
Bahamas Rotary Clubs at Bahamas Realty, Eastern Road; Town Centre Mall Booth; Family Medical Centre, Blake Road, all Nassau. Also Rotary Club of Grand Bahama Sunrise at D' Car Rental, Tree Root Plaza, Downtown, Grand Bahama.
The Bahamas Red Cross Society on JFK Drive.
Island Cellular, Palmdale
Ultimate Door and Window, behind Auto Mall on Shirley Street.
Mario's Bowling and Family Entertainment Palace, 9am-10pm
Bahamas Hotel Catering and Allied Workers Union at Workers House, Harold Road, Nassau.
Bamboo Shack, Soldier Road head office
College of The Bahamas, Campus Life Department.
Nassau Paper Company
Bahama Grill, West Bay Street
Bahamas Humane Society
Chelsea's Choice, Abaco
Forest Heights Academy, Abaco
Double R Convenience, 77 West, Abaco
Albury's Ferry, Abaco
PLP Headquarters, Farrington Road, Nassau, 323-6871.
PLP House, East Sunrise Highway, Freeport, Grand Bahama, 373-2242.
FNM Headquarters, Mackey Street, Nassau.
AML locations in Nassau and Grand Bahama. Solomon's Super Centre, Solomon's Fresh Markets, Cost Right in Nassau. Also, in Grand Bahama, Solomon's Queen's Highway and Lucaya and at Cost Right, Freeport.
Nassau Container Port, Monday-Friday, 8am-4pm, 424-5055 or NEMA on 322-6081/5.
Control Chemicals, Yellow Pine Street, Grand Bahama
Red Cross, Jobson Avenue, Grand Bahama
700 Partners, Bank Lane and Pioneer's Way, Grand Bahama
NEMA warehouse, Hawksbill, Grand Bahama
Salvation Army, Grand Bahama
Urban Renewal centers at Eight Mile Rock, Harbour West Plaza; Pineridge Centre, Wendall Avenue; Seahorse Village Centre, Pearl Way, Grand Bahama.
Rock Sound Market Place, Eleuthera, 334-0097.
Haynes Library, Governor's Harbour, Eleuthera
Kiwanis Club, Eleuthera.
Exuma International Airport
The Exuma Foundation, Hooper's Bay Resource Centre.
Florida: World Jet East, 1020 NW 62nd St, Fort Lauderdale, FL 33309. Contact 722-7444 for pilot Edward Hinckley/N242EB.
Tropic Ocean Airways, Sheltair Aviation, Fort Lauderdale. Contact the team at Tropic Ocean Airways by Phone: 1-800-767-0897 Email: reservations@flytropic.com Web: FlyTropic.com for more information.
Island Freight Forwarders, 1810 NW 51st Place, Suite 40A, Fort Lauderdale, FL 33309. For more information, contact 954-235-7318 or 954-681-4481 in Fort Lauderdale or 356-6733 in Nassau.
Lightspeed Shipping, 2545 NW 55 Ct, Hangar 26, Fort Lauderdale, FL 33309. Nassau: 323-7767, 698-7767.
Palm Beach Yacht Club, 800 North Flagler Drive, West Palm Beach.
Atlanta: Metropolitan area, contact Megan Lee (north Atlanta) on 954-513-7419, Melisa Bevans (central Atlanta) on 954-593-9523 or Arthia Nixon (south Atlanta) on 404-447-0476.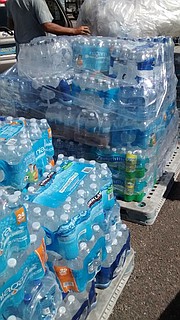 DONATIONS
Cheques made out to Tribune Radio Ltd can be dropped off at Radio House or The Tribune, Shirley Street.
Donations for jet fuel to Trans Island Airways can be made via cash and credit card, contact 357-9876. Email rotaract.senc.bahamas@gmail.com for more information. Also: https///www.youcaring.com/family-island-residents-affected-by-hurricane-joaquin-443828.
Donations to HeadKnowles for gas for planes and lumber for house repairs on https://www.youcaring.com/bringing-relief-to-our-families-in-the-bahamas-443717.
Rotary Club of East Nassau on https://d/projects/hurricane-joaquin-bahamas-relief-fund/#/. More information on the GREAT (Global Rotary East Action Today) Facebook page.
Long Islanders' Association via https://www.indiegogo.com/projects/bahamas-hurricane-joaquin-relief-efforts#/ Deposits can also be made at a number of banks as follows: Scotiabank – account name: Hurricane Relief Long Island Bahamas. Account number: 170941. Branch Transit Number: 03465. For more information, contact Dwight R. Burrows on 424-2746; Gina Coakley on 427-0591 or Brian Turnquest on 242-359-1010
The Bahamas Red Cross Society. Monetary donations can be deposited at A/C #289-423-6 at the Royal Bank at John F Kennedy Drive. For more information, call 323-7370.
Scotiabank: Hurricane Joaquin Relief Fund, account #4003319, Transit #70045 (Main branch). Deposits can be made online at www.bahamas.scotiabank.com, from mobile devices at www.scotiamobile.com or by visiting any one of Scotiabank's branches.
Bahamas Rotary Clubs - make donations to Rotary Clubs of The Bahamas, account #289-423-6 at the Royal Bank at John F Kennedy Drive.
Long Island native Chuck Fox aims to raise $100,000 in 60 days through online donations at https://www.indiegogo.com/projects/long-island-bahamas-hurricane-joaquin-relief.
Atlantis is pledging to match donations made to the Bahamas Red Cross online at https://www.youcaring.com/the-bahamas-red-cross-446078 up to $100,000.
PLP taking donations at A/C#100578098, First Caribbean International Bank, Marathon Branch.
NEMA is gathering donations deposited to the "National Disaster Relief Fund" at the Royal Bank of Canada, account #1281013, ref: Hurricane Joaquin.
Bahamas Methodist Habitat at www.methodisthabitat.org
Elbow Cay Community Association hurricane relief fund online at https://www.gofundme.com/955jdff4
San Salvador Hurricane Recovery Fund: https://www.gofundme.com/qe54wxqs
Fisherman's Fest Committee in Spanish Wells, Royal Bank, account #106-225-6, Spanish Wells branch #05805.
In Atlanta, US, an online donation site has been set up at https://www.gofundme.com/6k5nw3vg
The Department of Inland Revenue has released this list of charities and non-profits approved as charitable organizations for VAT purposes: Adventure Learning Centre; Bahamas Association for Social Health; The Bahamas Humane Society; Bahamas National Trust; Bahamas Reef Environment Educational Foundation; Bahamas Urban Development Centeran Youth; British Legion - Bahamas Branch; Cancer Society Eleuthera; Coalition to Protect Clifton Bay; Freeport Rugby and Football Club; Friends of the Environment; Governor General's Youth Award Programme; Grand Bahama Children's Home; Hands For Hunger; One Eleuthera Programme; PACE Foundation; Pilot Club of Nassau; Ride For Hope Bahamas; The Rotary Club of East Nassau; Sir Charles Hayward Library; Sister Sister Breast Cancer Support Group; The Bahamas Children's Emergency Hostel; The Bahamas Diabetic Association; The Bahamas Red Cross Society; The Bahamas Red Cross Society - Abaco; The Bahamas Red Cross Society - Grand Bahama; The Charitable Arts Foundation; The National L.E.A.D Institute; The Nazareth Centre; The Salvation Army; The Salvation Army Freeport; YMCA Grand Bahama.