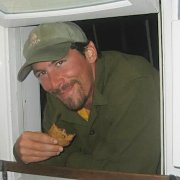 By LAMECH JOHNSON
Tribune Staff Reporter
ljohnson@tribunemedia.net
A DETECTIVE yesterday said a suspect alleged to have direct involvement in the murder of an American sailor gave a statement to police of his own accord and was not coerced.
Detective Sergeant Jamal Evans testified that on May 13, 2013, while on duty at the Central Detective Unit, he received information from a fellow detective believed to be relevant to the murder case of Kyle Bruner.
Bruner was shot a few feet away from the Paradise Island Bridge on Sunday, May 12, 2013.
Sgt Evans told prosecutor Ambrose Armbrister that he and Sgt 2095 Johnson "escorted a male by the name of Craig Johnson into an interview suite."
Sgt Evans said the suspect was informed of his rights to remain silent if he wished and the ability to seek counsel. Johnson allegedly told police that he did not need an attorney and began responding to questions as they were asked of him.
"He admitted his involvement," the officer said, noting that Johnson said he was accompanied by "Leo" and a "Rasta-type fellow."
"He said they were on Mackey Street by a vehicle driven by a Rasta-type male when he observed two men snatch something from two women," the jury heard.
"He then said a white male tourist approached him and took the firearm from him. There was a struggle and a shot went off," Detective Evans recalled of the interview.
The officer said Johnson agreed to do an inquiry and then took them to Ernest Street and pointed out the Hammerheads bar where he gave them information related to his alleged involvement in the matter in question.
In cross-examination, lawyer Nathan Smith asked the officer if he prepared a report concerning the case.
Sgt Evans said he did and agreed with the subsequent suggestion that the date of interview in the report was different from the date he was indicating to the court.
"That was an oversight on my part," Sgt Evans said.
"Is there a particular reason why he couldn't get an impartial person to be present for that interview?" the lawyer asked.
"The law doesn't require an impartial person to be present," the officer answered, adding that Johnson allegedly waived his right to speak to counsel.
"Isn't it a fact that Mr Johnson was beaten in custody by yourself and Sgt Johnson?" the lawyer suggested.
Detective Evans dismissed the suggestion.
Bruner, an American sailor who had been working as first mate on the Liberty Chipper sailboat that was docked at Nassau at the time, was shot in the neck trying to help two women who were being mugged by two armed men early on a Sunday morning.
Leo Bethel, 21, Craig Johnson, 22, Anton Bastian, 21, Jamaal Dorfevil, 30, and Marcellus Williams, 23, are alleged to have murdered Bruner on the day in question.
They are also alleged to have held up two women while armed with a firearm, robbing one of $150 cash and her $3,000 handbag and the other of cash, a handbag and an iPhone.
Ian Cargill represents Bethel while Roberto Reckley, Sonia Timothy and Walton Bain represent Bastian, Dorfevil and Williams.
The trial resumes today before Justice Indra Charles.