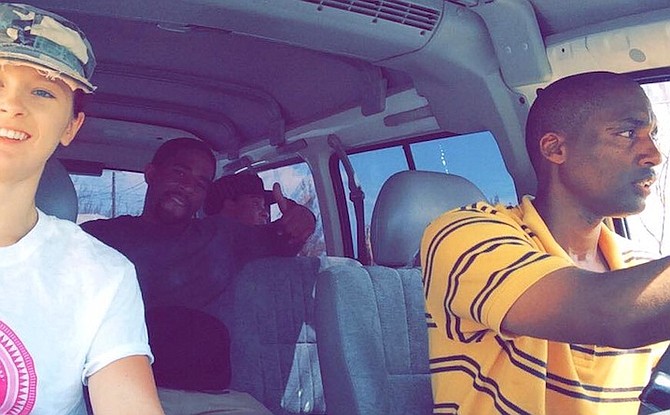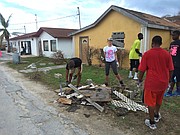 By STEPHEN HUNT
shunt@tribunemedia.net
AMONG those taking part in hurricane relief efforts has been a group of young people from Grand Bahama, who took goods to San Salvador on Wednesday.
A group including radio personality Teej Grant, model Clarisse Pelanne, and artist and actor Matthew Wildgoose escorted donations on a mail boat to ensure relief goods arrived safely.
Ms Pelanne, said: "I have no family in San Salvador, and had never been to the island in my life. I had no reason to go and help out save for empathy. After living through Frances and Jean in 2004 in Grand Bahama, I knew first-hand what it was like to experience the aftermath of a major hurricane, so identify all too strongly with what all of the people in the southern islands are going through. I really felt like I had no other choice but to do whatever I needed to do to go down there and do whatever I could.
"I think we sometimes forget that you don't need to be affiliated with a church group, or a relief organisation to take action. It's just a matter of connecting with people who share the same values as yourself and making it happen regardless of how difficult it may seem to accomplish. It's a matter of remembering that we are all one family, and that having a strong sense of community will always benefit the whole Bahamas in the long run."
While there, the team helped a group of young men with efforts to clear debris.
Jermaine Johnson, a Ministry of Tourism executive based in San Salvador, explained the efforts. He said: "San Salvador has been hit extremely hard, we have never experienced anything like this before. Right now, with the Ministry of Tourism I am trying to organise some of the young people - we have a lot of our kids who are seniors in the high school and they're not in school right now so I found a lot of them just wandering around doing nothing and I thought it was a great opportunity for them to show their community support and give a community effort.
"The week before the hurricane we had a programme called Hearts For Heritage ... having a heart for your history and your heritage and your island and San Salvador having the vast history that we have was getting the kids to appreciate that and to appreciate their community. And here we find ourselves in the aftermath of Hurricane Joaquin and they find themselves in the perfect position to apply all that they learned in that programme.
"I am very pleased with the group of young men I have ranging from grades nine to 11 and they stepped up. I saw them walking one day and said man, why are you walking around, there are these old people who need help ... to my surprise four of them took what I said to heart, went over to an old lady's house and began cleaning up her yard, so I'm very proud of those guys.
"They started not only in their own community of Long Bay but they also started moving into Cockburn Town... just starting to get communities looking like communities again beginning with removing debris from inside those yards."