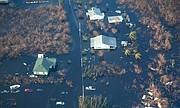 THE Pan American Health Organization/World Health Organization responded with health and government officials in The Bahamas to assess the impact of Hurricane Joaquin and strengthen the country's relief efforts.
Hurricane Joaquin caused widespread damage, significantly affecting electricity supply, communication infrastructure, health facilities, roadways, airports, harbours/ports and potable water for over 14,000 residents on Crooked Island, Acklins, Long Island, Rum Cay, San Salvador, Mayaguana, Ragged Island, Cat Island, Exuma and Inagua, PAHO said.
PAHO/WHO immediately made available emergency funding and experts to assist the Ministry of Health in its emergency relief response. The PAHO/WHO Regional Response Team deployed five experts in disaster management, including the PAHO regional advisor for emergency preparedness and disaster relief (PED), a sanitary engineer, a structural engineer, a biomedical engineer, and a disaster risk reduction specialist to support in country disaster relief and coordination efforts.
The engineering team assessed Clarence Town, Long Island on Sunday, October 4, and Landrail Point, Crooked Island on Monday, October 5. The team returned to New Providence on the evening of October 5, providing significant updates on damage and recommendations for interventions and mobilisation of resources to support these communities.
On October 6, one PAHO team member was deployed to an interagency mission with the Caribbean Disaster Emergency Management Agency (CDEMA) Rapid Needs Assessment Team and has travelled to Acklins to provide further support to these communities.
Dr Gerry Eijkemans, PAHO/WHO representative for the Bahamas and the Turks and Caicos Islands, and the PED Regional Response Team continues to support the Ministry of Health in relief efforts, in coordination with the Department of Public Health and Department of Environmental Health Services, to address public health and environmental health concerns.
To address immediate needs, PAHO has supported the procurement of: generators and held fuel pumps for the Department of Public Health - to support emergency restoration of health care facilities; refrigerators to support storage of vaccines and pharmaceuticals in the clinics; satellite phones for the affected Family Island clinics to improve health sector communication; handheld and truck mounted foggers for the Department of Environmental Health Services – to support vector control; and chlorine tablets (disinfectants) to improve water quality and sanitation management.
The PAHO/WHO Bahamas representation will continue to work collaboratively with the government of the Bahamas to address immediate-to-long term support for those residents of the central and southern Bahamas who were severely affected by Hurricane Joaquin.