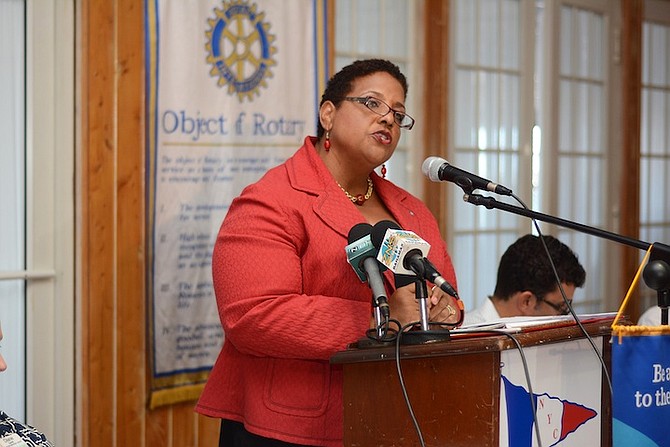 By RASHAD ROLLE
Tribune Staff Reporter
rrolle@tribunemedia.net
IN THE wake of the significant damage Hurricane Joaquin has wrought on Long Island, local MP Loretta Butler-Turner says she will now have to manage people's expectations with respect to their livelihoods.
"I know that that is going to be a big problem because there's one thing to lose your safety which is your home, but it is an even bigger issue when you lose your livelihood," she said on Friday.
"Long Island is a fishing and farming community and I could tell you the farms have been totally laid flat. With regards to the fishing vessels, many of them are in utter pieces on the land, not on the sea. So how are we going to deal with it?
"I've got to manage people's expectations in that regard because obviously I don't have the answer to that. I think as we move forward as a community we're going to have to do some collaborations. I've given it some thought and I'm thinking we really are going to have to be implementing some co-operatives so that people can start to work together because, even in this depressed economic situation, very few people are going to be able to go out and raise capital and get themselves on their feet again.
"So I would also want to partner with the various co-operative societies to see if we can help in that regard. We know if they were to go to a commercial bank the interest rates alone would kill them before they even get started, unless of course they are going to do something that is going to assist us.
"I think we have to look at it holistically in how we are going to restore lives and that is very high on my agenda because we've got to get people feeling like they have meaning in their lives in order to provide for their families."
Amid concern about the organisation and distribution of relief items, Mrs Butler-Turner acknowledged challenges but said there have also been improvements as officials have had the chance to visit areas that were previously difficult to reach because of floods.
Speaking following an address to the Rotary Club of East Nassau, she said: "One of the things I can tell you is after we did our rapid assessment via air, we realised that some airports were inaccessible," she said. "Some you can land on but they were inaccessible on the ground.
"The first drop load that we did it was in north Long Island and the roads were still blocked. We didn't have a way of communicating that those things were getting there. There may have been some sort of misunderstanding about how they were being distributed but we've now been able to use the churches, use the social workers, the Defence Force officers and others to make sure that we have distribution centres and ensure that most people are being serviced.
"One of the cries that I got on social media last night was that north Long Islanders felt they weren't getting sufficient water and other supplies so I immediately asked the island administrator to please go address that. We know that while they have electricity, Long Island does have a water deficiency problem.
"The good news, though, is that just today I've learned that we would have the use of three osmosis plants that we can deploy to these islands that don't have water and they come with their own generators."