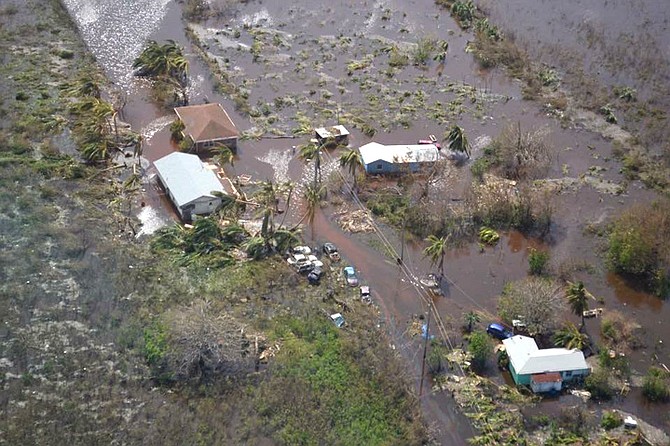 By NICO SCAVELLA
Tribune Staff Reporter
nscavella@tribunemedia.net
NEARLY 100 people have been evacuated - some for medical reasons - from islands severely impacted by Hurricane Joaquin by two private relief air operators this week.
Anthony Hinsey, Public Relations Manager at Odyssey Aviation, said to date that 97 people have been evacuated from various islands in the southern Bahamas, of whom 11 had to seek medical attention upon their arrival in New Providence. Others, Mr Hinsey said, received free lodging in local hotels.
At the time Mr Hinsey spoke to The Tribune on Friday afternoon, he said another three people were scheduled to be evacuated and brought to New Providence. 
Odyssey Aviation, an air services company, and Trans Island Airways (TIA), an airline, have been instrumental in providing hurricane relief supplies to the islands suffering from damages due to the Category 4 storm.
TIA, in conjunction with various government agencies and Bahamian and international aid groups, is utilising its fleet to provide air transport for emergency relief efforts in the aftermath of Hurricane Joaquin. TIA is also providing air transport for government officials and others seeking to make assessments and provide assistance to the storm-impacted islands.
Odyssey Aviation has partnered with TIA by providing the necessary base for it to conduct its operations throughout the duration of the initiative, according to Mr Hinsey. 
Although the majority of its flights are for the purpose of transporting supplies and/or various officials to the southern islands, Mr Hinsey told The Tribune that TIA has also been "actively involved in evacuating people when the call is made".
"There were quite a few medical evacuations," he said. "Persons had to be evacuated, brought to Nassau, and we put them in hotels. As of last night we took out 97 persons and we're bringing in another three in an hour or so," he added.
"Out of that 97 about 11 of those needed medical attention. A lot of those persons came out with no food, no clothing, so we had to house them and we provided them with food and clothing."
Additionally, according to a post on TIA's official Facebook page, one of its Cessna 402 airplanes on Thursday delivered "critical prescription and life saving medicine" to every "island clinic affected by the storm". 
Paul Aranha, TIA's president and director of operations, said that to date, TIA has delivered 185,000lbs of emergency relief supplies to the various southern islands. 
Mr Hinsey followed up by telling The Tribune that as of 2.30pm on Friday, TIA had delivered a further 28,000lbs and that another 35,000lbs is expected to go out in the afternoon. 
However, executing an initiative such as the one currently being conducted by TIA and Odyssey Aviation comes at a cost. 
According to Mr Hinsey, a DC-3 airplane making a round-trip from Nassau to Long Island to carry supplies costs an average of $8,000. 
"The smaller planes would cost between $1,000 to $2,000 depending on the size of the smaller or what we call 'light' aircraft," he added.
When asked just how long TIA plans to provide air transport to and from those islands affected by Hurricane Joaquin, Mr Aranha said it "all depends on how long we have the money to keep flying for".
"We've had very large airplanes donated which require a lot of fuel," he said. "So as long as the money keeps coming in and the need keeps presenting itself we're going to keep on flying."
Earlier this week, Mr Aranha told The Tribune that he has received "tremendous" support from residents in Lyford Cay, Albany and Old Fort Bay, without whom he said TIA "wouldn't have the funding" to execute its initiative. 
"So we're doing everything we can to keep things going," Mr Aranha added on Friday. "So as long as there is a need for the airlift we will continue to do it. Right now, for example, we had an airplane a few minutes ago run out to do a medical evacuation from Deadman's Cay. So the needs do keep presenting themselves and we'll keep fulfilling those needs."
Mr Aranha added that there have been no "hiccups" in carrying out the initiative. "The whole thing has really been positively overwhelming," he said. "The support has been incredible. Everyone has banded together to make whatever we need to happen happen.
"There have been a lot of great partnerships. The best one I would say is the one forged with the Royal Bahamas Defence Force. Every single person that we have come across in the Defence Force has been amazingly dedicated to helping rebuild and providing relief. 
"It's really been impressive what everyone has managed to do. The volunteers are so powerful and they produce so quickly. There's no complaining and they're all here because they want to be here. They all work unbelievably hard." 
Hurricane Joaquin hammered the central and southern Bahamas last weekend after it strengthened into a Category 4 storm.
The slow moving storm left devastation in Long Island, Acklins, Crooked Island, San Salvador and Rum Cay in particular, destroying homes and buildings with strong winds and heavy flooding.
No fatalities have been associated with the category four hurricane, Police Commissioner Ellison Greenslade has said.
Prime Minister Perry Christie has said it will cost tens of millions of dollars to recover from the storm, a statement that was later echoed by FNM Deputy Leader Peter Turnquest.