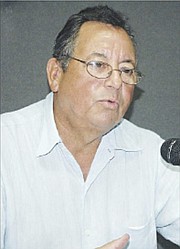 By AVA TURNQUEST
Tribune Chief Reporter
aturnquest@tribunemedia.net
FORMER Progressive Liberal Party Cabinet minister George Smith yesterday urged his party not to hold its national convention next month as communities devastated by Hurricane Joaquin will still be struggling to recover.
Mr Smith called for his party to postpone the event until early next year, adding that it would be "grossly insensitive" to go forward with a November convention in the midst of such dire need.
When contacted for comment, PLP Chairman Bradley Roberts told The Tribune yesterday that he had received numerous calls on the matter, adding that the convention committee will meet next Tuesday and would consider any recommendations made at that time.
The PLP's convention is set for the first week of November.
"In light of the after effects of the hurricane, the wise thing to do is reschedule until early next year, but it must be held in the next several months," Mr Smith said.
"It would really be grossly insensitive knowing that we're in the height of the assessment of the damage and what steps ought to be taken. It should be rescheduled, but it must be held," the former Exuma MP added.
The PLP's constitution mandates that a convention be held annually; however, the last convention was in 2009. If postponed, this will be the second time the party's highly anticipated convention will be pushed back.
Last October, an expected convention was postponed out of respect for the expected constitutional referendum on gender equality, Mr Roberts said at the time.
He explained that the party elected to put off its convention in order to focus its attention and resources on guaranteeing the success of the constitutional referendum.
At the time, Mr Roberts maintained that the event would take place after the referendum on gender equality has been held and denied rumours that the postponement has anything to do with public opinion about the PLP.
The proposed referendum was first expected in mid-2013 and has been delayed several times. The bills were never passed in Parliament, and there has been no new date set for the vote.
Mr Smith's plea follows a move by the Democratic National Alliance to postpone its first convention, scheduled for November 13.
DNA Chairman Andrew Wilson declared this week that the party would instead donate convention funds to storm relief organisations in a press statement on Tuesday. He said a new date would be set for early 2016.
Hurricane Joaquin ripped through the southern and central Bahamas over a two-day period last week.
Long Island, Acklins, Crooked Island, San Salvador and Rum Cay were hit hard by the storm, which tore off roofs, brought chest high storm surges in some areas, knocked out walls and uprooted utility poles.
In Crooked Island, the category four storm left 65 per cent of the homes with major damage. Many people in the affected islands are now homeless and depending on the donations from charities and volunteer groups to survive.