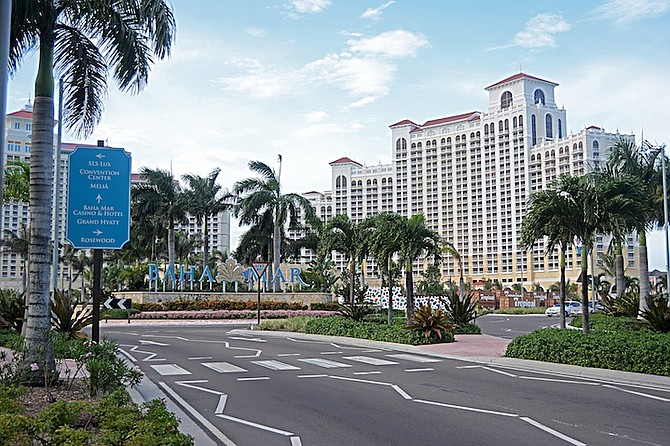 TALKS between the parties involved in the stalled Baha Mar resort last week have been described as "constructive" and "another important step on the road to resolution" by the court appointed joint provisional liquidators. In a statement released on Sunday, Edmund Rahming, of KryS Global, and Alastair Beveridge and Nick Cropper, of AlixPartners, collectively the joint provisional liquidators (JPLs) to the $3.5 billion Cable Beach development, said they had chaired talks with representatives from the government, the Export-Import Bank of China, CCA Bahamas Ltd and parent company, China State Construction Engineering Corporation. The resort's founder and investor, Sarkis Izmirlian was also present, according to the statement.
Mr Beveridge said in the statement: "The talks (last) week are another important step on the road to resolution. We would like to thank all parties for their good faith participation in and constructive approach during the meetings. Whilst there is still work to be done, it is clear that all involved are focused on quickly reaching a viable solution to ensure that the Baha Mar resort is able to open for business for the benefit of all stakeholders, including the Bahamian people.
"We will continue to work with all stakeholders as we explore the best route forward and will issue further updates as talks continue."
Last Wednesday, Prime Minister Perry Christie revealed the resumption of the Baha Mar talks.
He said Attorney General Allyson Maynard-Gibson was once again representing the government's side in the discussions. Mrs Maynard-Gibson did not want to comment when contacted yesterday.
The latest round of talks comes more than two months after Mrs Maynard-Gibson led a team to mediate negotiations in Beijing, China. Those talks in July failed in two successive trips, the first of which ended with Mrs Maynard-Gibson returning to Nassau and filing a winding-up petition in the Supreme Court after those negotiations reached a stalemate.
The JPLs were appointed by the Supreme Court on September 4.
In July, Baha Mar was reportedly offered $300 million in additional financing to finish the project by the EXIM Bank, on the condition that the resort drop its Chapter 11 bankruptcy filing in the United States and its lawsuits against general contractor CCA.
However, the agreement to resolve Baha Mar's woes was sunk when the warring parties were unable to agree on key details.
All bankruptcy cases involving Baha Mar's Bahamian companies were dismissed in a US court last month.
Mr Christie met with Mr Izmirlian in the Office of the Prime Minister on September 28, and the mega-resort's two other major stakeholders the previous week while in New York.
Baha Mar was first expected to open in December 2014 and then missed a subsequent opening date in March 2015. An opening for early May was then planned, however that target was also missed.