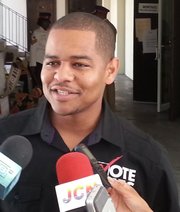 By KHRISNA VIRGIL
Tribune Staff Reporter
kvirgil@tribunemedia.net
ISLAND Luck CEO Sebas Bastian said he was confident that his company would be among the chosen few to receive the conditional gaming house operator licenses expected to be issued this week, insisting that his team had put together a "best in class" request for proposal.
His comments came yesterday as Prime Minister Perry Christie told reporters that a licensing hearing would take place soon, which was aimed at ending the transition process.
It is still unclear whether all of the nine web shops that submitted RFPs under the new Gaming Act will be awarded licences. Attempts were made to contact Tourism Minister Obie Wilchcombe, who has responsibility for gaming, but calls were unanswered up to press time.
These companies include: Bahama Dreams, FML Web Shop, Bet Vegas, A Sure Win, Paradise Games, Island Luck, Percy's at the Island Game, Asue Draw + Spin, and Chances Games.
Following a donation to Hurricane Joaquin relief efforts by the Gaming House Association at the Office of the Prime Minister, Mr Bastian said he was happy that the lengthy process had an end in sight.
"It's been a long journey," Mr Bastian said. "It has been four and a half years since this journey started. Nonetheless with all of the bumps that we have hit in the road I think the people at the Gaming Board should be applauded for what I consider a diligent job in this process.
"We had to make a lot of submissions (and) there were a lot of interviews and because we operate in other regulated jurisdictions a lot of what we saw them doing to us was consistent with what has happened in other jurisdictions that we operate in. That is how I was pleased that they were on the right track. They did their homework obviously.
"Although it was tedious, onerous, bothersome and long I think it was the right thing to do and the right way of going about it."
Pete Deveaux, owner of Percy's Web Shop and Island Game, said his chain of shops had no choice but to be ready for the licensing hearing as he described the process as being a "learning process".
He said: "We are ready for this. We had to be. It is our livelihood. It's been our livelihood for a very long time and we intend to continue to serve the Bahamian people.
"The process has been a learning process for all of us. This is the first time something like this has been done for Bahamians by predominantly Bahamians. So it's a learning curve for both the government and for us because there are no other entities like us in the Bahamas. So we think the process has been as good as it could have been."
The nine operators were approved to operate during the transitional period. To remain open, web shops were required to pay their tax arrears for the period July 1 to November 24, 2014, no later than December 1, 2014.
They were then given until December 8, 2014 to lodge sworn affidavits with the secretary of the Gaming Board, in which they disclosed whether they wished to operate their businesses during the transitional period.
Only companies that are 100 per cent owned by Bahamian citizens, and who reside in the Bahamas, will qualify for licensing as a gaming house operator. As part of the RFP process, web shops were required to provide their financials, and the Gaming Board has been investigating these applications since March 10.
The government previously projected that it would collect $20m in web shop taxes annually.