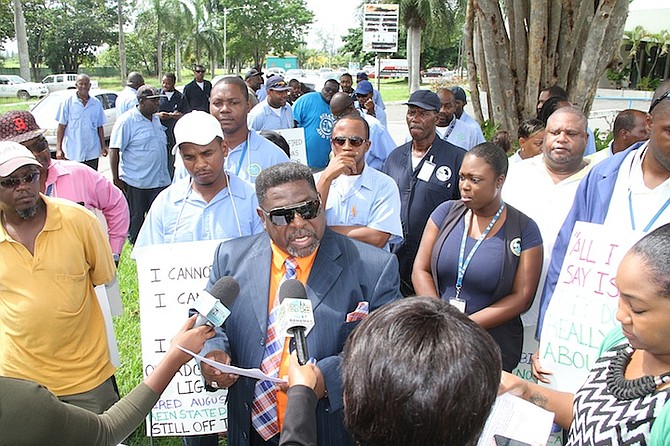 By SANCHESKA BROWN
Tribune Staff Reporter
sbrown@tribunemedia.net
STAFF at the Water and Sewerage Corporation yesterday threatened to "withdraw their services" if the corporation's general manager is not removed immediately.
Dozens of workers protested outside the agency's Thompson Boulevard office on Tuesday demanding immediate government intervention.
Speaking to reporters, Dwayne Woods, president of the Bahamas Utilities Service and Allied Workers Union (BUSAWU), said union complaints "fall on deaf ears." He said union members are sick of General Manager Glenn Laville's "foreign and unorthodox style of management."
"The general manager has threatened to fire an employee of 34 years of service, who is 54, if he does not retire while the Industrial Agreement speaks to the compulsory retirement age of 60.
"When the union questioned the general manager on where the employee was supposed to go, he said 'people are like corn, when you put it through the mill it turns to grits and the husk turns to water, there is no more use for them anymore.' The union says shame on him," Mr Woods said.
"The corporation continues to operate recklessly without a human resources professional in the top position of the Human Resources Department. This is taboo and ludicrous under the circumstances and quite clearly explains the problems we are facing.
"The general manager is operating as judge, jury and executioner. Union members are sick of him and are saying enough is enough, he has to go."
Mr Woods also alleged that there was a problem at WSC where "lower level staff" members have been promised promotions from higher-ranking employees in exchange for sex. He said this has led to employee divorces in some cases.
He said if something does not happen "very soon" the walls will come down at WSC.
"Those in power need to intervene and bring these matters to a close or they will leave the union with no other alternative than to withdraw its enthusiasm," Mr Woods said.
"We would like to send a clarion call to the stakeholders to take this matter in hand or it will continue to erode, day by day, every hour and every minute the general manager is still at the Water and Sewerage Corporation. He remains a thorn in our side and you know what happens when a thorn remains in your side, you react. Any moment the walls will come crumbling down. We will do whatever it takes to get this matter resolved."
Mr Woods apologised to the general public for any inconvenience caused while the matter is resolved.
In Tuesday's edition of The Tribune, a headline for an article about the union's frustrations incorrectly said the group planned a protest to call for the chairman's resignation. However, the headline should have read, 'Union protest to call for Water and Sewerage general manager's resignation.'
More like this story