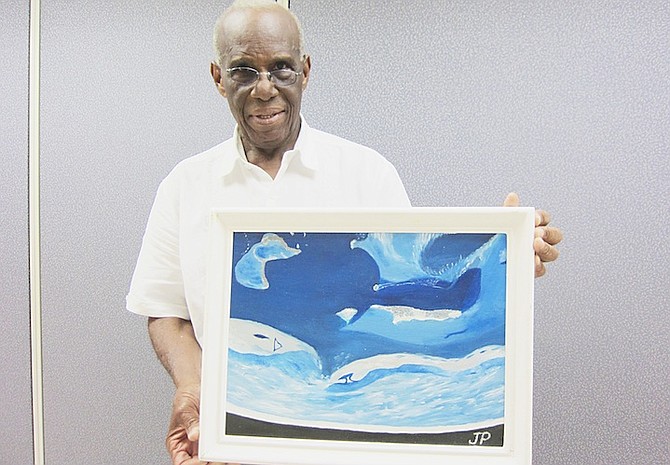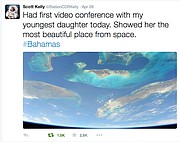 FOR the past 200 days, Scott Kelly has been orbiting the earth taking a series of spectacular photos of the planet from space.
The 51-year-old American astronaut, engineer and retired US Navy captain is commanding the International Space Station on a year-long special mission and his #YearInSpace photographic efforts have won him an audience of nearly half a million followers on Twitter @StationCDRKelly.
They have also brought him to the attention of a Miami-based Bahamian artist, who has painted a picture of Cmdr Kelly's overhead photograph of The Bahamas which he saw published under the headline 'the most beautiful place from space" in The Tribune on April 28.
Now Jimmy Pennerman, a retired Bahamasair sales manager, would like Cmdr Kelly to have the framed painting and is wondering how to get it to him.
"I read the papers and if I like something I like to go ahead and do it," he said yesterday as he arrived with his painting at The Tribune.
Mr Pennerman started painting as a hobby, getting subjects from newspaper clippings, but in retirement is hoping to do it commercially. Born in Mangrove Cay, he went to school in Nassau – at Southern Senior, Wulff Road – before going to Cornell University. He has three children in New Providence and two grandchildren who teach at Lyford Cay School.