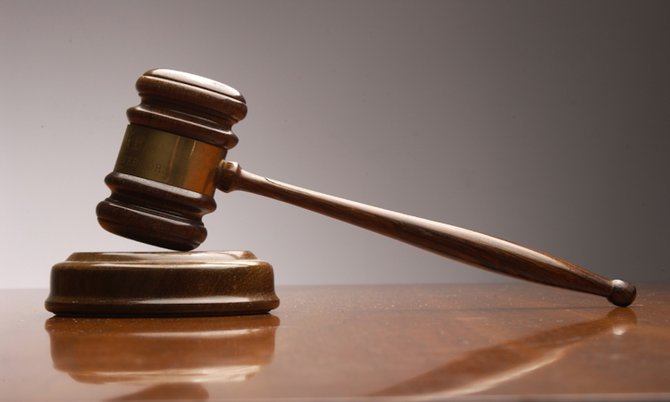 By LAMECH JOHNSON
Tribune Staff Reporter
ljohnson@tribunemedia.net
ATTORNEY Wayne Munroe faced an uphill battle yesterday as he attempted to convince Court of Appeal judges that the words and actions of his client Maurice Glinton during an extradition appeal were not in contempt of court and deserving of punishment.
Mr Munroe, QC, spent five hours before Justices Anita Allen, Abdulai Conteh and Neville Adderley disputing the context and subsequent legal ramifications concerning Mr Glinton, also a QC, and the latter's refusal to continue representing three men fighting extradition to the United States while Justice Conteh presided over the matter despite meeting the constitutional age of retirement.
"I do not want to hear such a childish proposition," Mr Glinton said on September 28 to Justice Allen, Court of Appeal president, when informed that Justice Conteh, 70, had received a legal extension allowing him to remain on the bench.
Though Mr Munroe did not contest the accuracy of the remarks recorded in the court's transcripts, he and the court were at odds yesterday on whether the comments were justified.
Mr Munroe, Mr Glinton's lead counsel in the contempt proceeding, was asked if he would respond and conduct himself in a similar manner as alleged on the summons.
"I'm a docile person," Mr Munroe answered.
"As an officer of the court and member of the inner-bar, is that a proper and respectful way to answer a court or any judge?"
"M'lords, if I may be permitted to say – the starting point is counsel must be fearless but that doesn't dictate the style or manner in which they do it," Mr Munroe said.
"So you're saying it's a respectful way for some people to answer. Is that what you're saying? I want to put it on the record. Is that answer respectful to a judge of any court whether its Magistrates, Supreme Court or Court of Appeal?" Justice Allen probed.
"It may not be the nicest way to say it but in the context, yes," Mr Munroe answered.
Mr Glinton, who was appointed a Queen's Counsel in January of this year, was cited for contempt after he disrobed in front of the court, took his belongings and left the courtroom while being addressed by the bench. This was after a refusal on his part not to proceed with the appeals of Shanto Curry, Trevor Roberts and Devroy Moss because Justice Conteh, who had reached the mandatory constitutional age of retirement when he celebrated his 70th birthday on August 5, was on the panel.
Mr Glinton was of the view that the panel was not properly constituted with Justice Conteh there and would not proceed with his representation for the men who are wanted in Florida on a 2004 extradition request that alleges they belonged to a multinational smuggling gang.
The issues of contention before the appellate court are Mr Glinton's tone and conduct before the panel, his subsequent actions of disrobing himself before the court and his failure to appear on a summons for a hearing on October 9 at the time specified on the summons.
This led to his arrest and detainment for four days at the Cable Beach police station during the National Heroes Day holiday weekend.
He said yesterday that he would not apologise for raising the issues that have led to the present proceedings. He did, however, express regret for any impression his actions gave that he was attempting to delay the hearing of the extradition appeals and by extension, impeding the administration of justice.
"What I've recorded is that you've pleaded not guilty. Is that it?" Justice Allen asked. "Yes," Mr Glinton replied.
Mr Munroe said his client would rely on the affidavit that had been submitted and filed to the court.
"I didn't see anything here that made reference to the conduct," Justice Adderley said.
"Paragraph three to seven has to do with accepting what has occurred but I don't see anything responsive to that," Justice Allen said in agreement.
Mr Munroe said the expressed statement of regret by his client addressed those points.
Justice Allen said his statement of regret did not seem like one at all.
"It says he didn't intend to ridicule or disrespect. As I understand it then, 'I did do it but I didn't intend the consequences'," the appellate president said.
"Our position is that Mr Glinton's actions do not amount to contempt of court," Mr Munroe said before advancing his first of several points in response to the charges concerning his client.
Recusal
"Your lordships, as this panel is comprised, ought to recuse itself from hearing on this contempt proceedings," Mr Munroe said.
He explained that he was not making any accusation of bias against the court, but was relying on the authority case of Ian Stuart West (2014), where a court should consider recusal when a fair-minded observer may consider a danger of bias when considering all of the circumstances that arose in the matter.
He said his client had appeared in court on October 9, though late, and a warrant for his arrest would have either been issued before his attendance or after the court adjourned.
Mr Munroe said that notwithstanding that judges in this jurisdiction can preside over contempt proceedings initiated by its own court, the entire panel of judges should recuse itself while extending an invitation to Chief Justice Sir Hartman Longley to preside over the proceedings along with the remaining appellate judges Justices Jon Isaacs and Stella Crane-Scott.
"You're saying this because of the peculiar facts?" Justice Adderley asked. Mr Munroe said yes.
"The nature of the charge your client is faced with is contempt in the face of the court. I cannot see for myself any other judge, including the chief justice, can deal with it," Justice Conteh said.
"The court did not once cite him for contempt during all of this," Mr Munroe said concerning the September 28 matter.
"We didn't have the opportunity and we couldn't physically bring him back," Justice Conteh said.
"We did not see that coming," Justice Allen said.
"Mr Munroe, you know from your position that is unacceptable. You don't walk out on the court," Justice Conteh said.
"We say the procedure of waiting until someone has left the courtroom is inconsistent with procedure for contempt proceedings," the QC said.
"I wish we had a pictorial representation of what occurred that day then we wouldn't have to belabour the point," Justice Conteh said.
Mr Munroe then advanced his second argument concerning the constitution of the court.
He submitted that the issues raised by Mr Glinton on September 28 were also a ground he would rely on as a basis for the present panel not being able to preside over the current contempt proceeding.
However, Justice Allen further reminded Mr Munroe that Mr Glinton never put himself on the record as required if he wished to make the objection that he had.
Mr Munroe said his client was seeking evidence concerning the tenure of a presiding member of the panel for a potential application.
"It would be very bold of an attorney to say 'before I proceed, can I see your instrument of appointment'," Justice Conteh said.
Justice Conteh said for the record that he had no issues with producing proof of his lawful extension, but both Mr Glinton and Mr Munroe knew of the proper procedure and forum to go about such a request.
Addressing the September 28 hearing directly, Mr Munroe said the court went on to determine that the three appellants in question had no legal representation despite lawyers Paul Moss and Jerone Roberts being present.
Justice Allen said neither of them put themselves on record as attorneys for the accused and that Mr Moss himself left behind Mr Glinton who continued to ignore her and Justice Adderley when they were addressing him.
Mr Munroe said the actions, when considering all of the issues, did not amount to contempt.
When pressed if he would have acted in the same manner as the man he is representing, Mr Munroe said he has a different disposition from that of Mr Glinton.
He contended that the court was procedurally incorrect in not citing his client for contempt then and there if it were truly of the view that his conduct was out of order.
Speaking to the October 9 proceedings where the court alleged that Mr Glinton did not appear at 10am, Mr Munroe said his client appeared late but he was in the courtroom where no one gave any indication that his matter would be heard.
The court expressed the view that having arrived late, Mr Glinton should have approached the court, apologised for his tardiness and then expressed his readiness to address the matters in question.
Garvin Gaskin, acting director of public prosecutions, referenced a number of authority cases to the court for consideration of the matter.
Mr Glinton was informed that a decision would be handed down on October 26 at 10am.