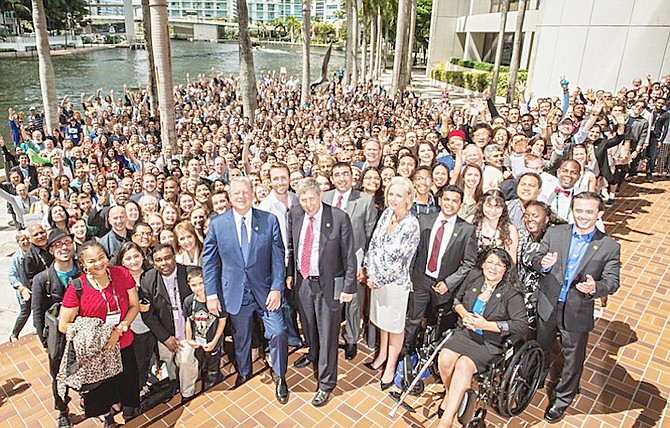 SENIOR executives for Save The Bays have said they are better equipped, prepared and more energized than ever about tackling the looming threat of climate change.
Returning from a high level training workshop in Miami led by former US Vice-President Al Gore, newly-elected Save The Bays (STB) Chairman Joseph Darville and CEO Vanessa Haley-Benjamin are eager to help educate and engage Bahamians on the realities of this enormous threat to the geographical, social and economic fabric of The Bahamas.
"This country is particularly vulnerable to the dangers of climate change due to its low-lying geography and tourism dependence," said Mr Darville. "We must do all we can to make this a national priority before it is too late."
The Climate Reality Leadership Training Corps gathered scientists, conservationists and climate experts from around the world to discuss the way forward in seeking to mitigate the effects of what the United Nations has called one of the most serious threats to life and livelihood facing the world.
The event's relevance to The Bahamas was tragically heightened following the passage of the devastating category-four storm, Hurricane Joaquin, Mr Darville noted.
"Climate change threatens not just our environment, but our very continued existence as a country and a people," he said. "As a small island developing state (SID), The Bahamas is uniquely vulnerable to the risks that climate change will create, such as intensified hurricanes and rising sea levels, as was recently demonstrated in the southern Bahamas with such tragic consequences.
"Save the Bays is committed to preserving and protecting the Bahamian environment and helping establish strategies to mitigate the effects of climate change, recognizing that in the long-run, this means defending The Bahamas' future as a country."
Mr Darville and Ms Haley-Benjamin said they were honoured and excited to meet dozens of inspirational leaders in the area of environmental conservation and climate action and felt encouraged by their commitment to the cause.
"We have returned from the Climate Reality Leadership Corps Training even more energized and equipped to play our part in protecting the Bahamian environment for future generations," said Ms Haley-Benjamin, who also serves as executive director of Waterkeeper Bahamas. "The Bahamas must begin taking mitigating action now if we hope to reduce the impending threat climate change poses to everything from our tourism sector to basic necessities such as our fresh water supply.
"A key to this will be building resilient communities across our archipelago of islands. Uncertainty is an inherent part of the climate change problem; we cannot know when and in what form severe challenges will arrive. Therefore, we as a country must develop locally-led response strategies as well as plans to deal with long-term effects."
During the three-day event, Mr Darville and Ms Haley-Benjamin heard from a host of experts about the science behind the climate crisis, as well as from leaders in the environmental conservation sector worldwide on how they have been able to educate and engage individuals on the need for action. They participated in exercises aimed at fortifying the capacity of groups like STB to enact change through storytelling, public speaking, social media networking and media engagement.