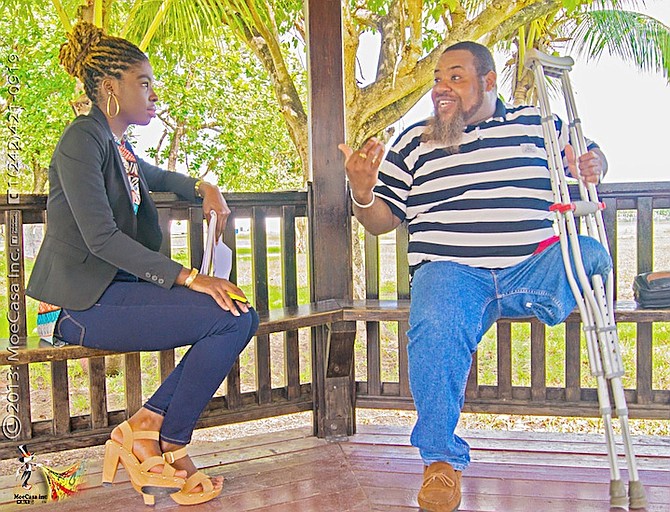 By SASHA DANEAH ANDERSON
OCTOBER marks National Disability Employment Awareness month when those with disabilities in the working environment are celebrated and recognised and awareness about disability employment issues raised.
This year's theme, "'My disability is one part of who I am", seeks to exemplify many different aspects of persons with disabilities (PWD) who can contribute while at the same time overcoming various barriers placed in front of them.
Barriers may include having non-disability employees using the disability parking space and getting permission from managers to do so; working in a building that is two or three storeys with no elevators; doors not wide enough for wheelchairs; no ramps; non-flexible work hours – the list can go on. There are many, though, who are able to find the mental strength to overcome the barriers. Many are able to find creative and strategic ways to get through the day, stay positive, and remain grateful. Although one has the strength to keep positive does not mean the problem should be accepted and ignored.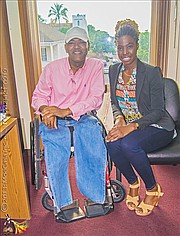 As a part of NDEAM, I met a well-rounded accountant and former president of the Bahamas National Council for Disability (BNCD) Townsely Roberts and Chairman of The Music Makers Junkanoo group and Senior Examiner of the Compliance Commission Gary Z Russell. Both are breaking barriers in their unique ways and shared with me their experiences.
Mr Roberts, 40, was graduated from the College of the Bahamas in 1995 with an Associate's degree in Accounting and Computer Data Processing. That same year, Mr Roberts - an above the knee amputee - was employed by the company that owns Wendy's and Marco's Pizza and has been there for 20 years. Mr Roberts moved up the ranks and landed the position as Accountant Manager. "People are surprised that they didn't hire someone out of empathy," said Mr Roberts. "People generally feel if you have a disability, it affects your intellect somehow. I don't understand it but that's just how they are. I find people will talk to you louder and your disability isn't your hearing or talk very slow."
Mr Roberts explained the reason for this ignorant behaviour as having "to do with the fact that we need to educate the Bahamian public on the realities of what disability is".
Recently, he has focused on realising his and a friend's vision where they can employ PWD. "Bahamians are not at that level, I don't think now, where they are willing to give PWD a chance without forcing them by law," said Mr Roberts, "that's the reality."
Mr Roberts acquired his disability in 1981 aged five after having a glass peanut butter and jelly jar accidently thrown at the back of his knee. As a result of this trauma, Mr Roberts suffered from gangrene and had to have his left leg amputated in order to survive. Despite this trauma at a young age, Mr Roberts was able to live a "normal" child's life filled with opportunities. "When you're young, you're really looking forward: backwards for me was only five years which I can't really remember much of," said Mr Roberts. "So I had no choice but to go forward."
Mr Roberts recognises the contributions of his family and the teachers he met throughout his childhood. "I think the greatest benefit though is I had a support system around me where I remembered the doctor telling my mother not to treat me any differently, and she listened," he said. "One of the major things I always allude to was that most of my teachers growing up on the Family Islands were actually foreigners and they refused to let me sit in the corner and do nothing. Basketball, softball, soccer … I had to participate."
Mr Roberts learned to navigate two flights of stairs at work with his crutches and described his confident and inspiring attitude towards falling. "It's okay to fall, you got to learn how to fall. When you fail is how you learn, even the disabled."
At the age of 23, while serving as the Marketing and Sales Manager for a company, Gary Z Russell was speeding on one of the long roads in Dundas Town, Abaco, and suffered a severe car accident resulting in fractured and broken bones and an inability to walk again. He had been accustomed to being able to change quickly into basketball gear after work and hitting the courts. The initial thought of not being able to play basketball like he used to brought Mr Russell to anguish; however, he was able to set that aside and overcome his first barrier by participating in rehabilitation.
After being released from the Princess Margaret Hospital, Mr Russell was flown to Miami. "Jackson Rehabilitation Centre in Miami is where I did everything I had to do with the therapist," said Mr Russell. "They taught me how to be independent, bathe myself, dress myself, cook for myself; they taught me how to use certain equipment to get something out of a high cupboard; they taught me how to drive and handle hand controls in the car where I couldn't use my feet.
"I came home and got adjusted to Nassau. The environment and infrastructure is not a place for a person in a wheelchair. No ramps on the streets. Thank God they start to build some sidewalks now and put curves in them."
One may think after experiencing such a tragic accident Mr Russell would sit at home feeling sorry for himself. On the contrary: Mr Russell did not miss a beat and went back to his previous job in Marketing and Sales. Mr Russell strategically worked his way around Nassau going door-to-door with the same passion but a different approach. He had to think ahead about the set-up of the environment and/or infrastructure of where he was going and prepare himself so that there wouldn't be any mishaps. Mr Russell worked as the Acting General Manager of Marketing and Sales until the company closed and he decided that Law was what he next wanted to pursue.
Mr Russell, 53, was graduated from COB in 1999 with an Associate's degree in Law and Criminal Justice. He went on to further his education at the University of Buckingham, where he pursued his Bachelor's and Master's of Law. He is fortunate to have a strong support system of people willing to accommodate him and his disability when necessary. "I have no complaints," said Mr Russell. "With my supervisors, anything I needed I would get in reason in terms of accommodating me with my disability – health, work schedule, and parking."
It is satisfying to know that there are employers in the Bahamas accommodating their employees with disabilities. Prior to his Law career, Mr Russell worked in hospitality as a Chef from 1979 to 1986 and in the field of Marketing and Sales from 1986 to 1997.
At the time of his accident, his disability was a Wheelchair T9 Paraplegic. In 2012 he became a quintuple amputee where both legs and three fingers had to be amputated in order to save his life as a result of what he believed to have been "food poisoning."
Despite barriers placed in front of him, Mr Russell continues to work hard in his career, give back to the culture of the Bahamas through the arts of Junkanoo and will be honoured in December for his Junkanoo contributions. "I never gave up and I never let despair settle in because it is known for a fact that when a person gets into a state of despair, the only thing that can follow despair is death," said Mr Russell.
Let us recognise and respect employees with disabilities in the working field who are breaking barriers every day and moving forward. Disabilities can be invisible like cancer and vision impairment or visible like an amputation. Despite the presentation of the disability, let us remember the theme of this NDEAM month: "My disability is one part of who I am."
Sasha Daneah Anderson is a Rehabilitation Counsellor born and raised in Nassau. Educated at St Anne's Anglican High School and College of the Bahamas, she was graduated from Emporia State University, Kansas, with a Master of Science degree in Rehabilitation Counselling. She can be contacted at sander12@g.emporia.edu