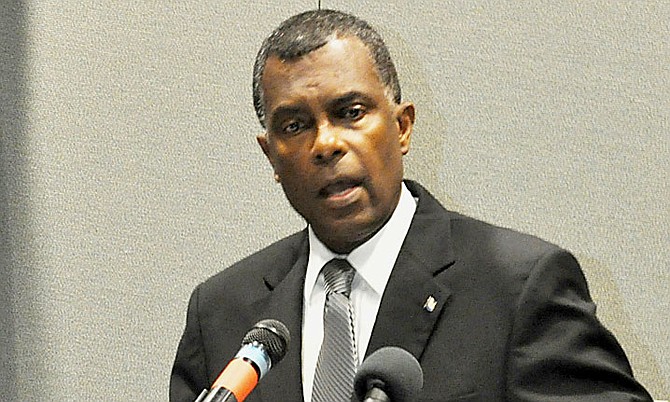 By RICARDO WELLS
Tribune Staff Reporter
rwells@tribunemedia.net
FOREIGN Affairs and Immigration Minister Fred Mitchell yesterday announced that he intends to speak with executives of the Department of Correctional Services in the wake of claims of mistreatment raised by a Jamaican national earlier this week after he was freed from custody.
However, Mr Mitchell, speaking in the House of Assembly, urged the public not to rush to judgment.
"We must try to get all the facts," Mr Mitchell said.
"I will be speaking with prison officials to see if any complaint was ever made of the kind of abuse that has been reported in the Jamaican press during the incarceration of the individual who is now complaining."
Matthew Sewell, 27, was released from Bahamian custody on October 15 after Senior Justice Stephen Isaacs ordered his released from detention. He had been in and out of the prison system and the Carmichael Road Detention Centre for nine years on various charges, however he was never convicted of a crime.
In his first public comments since his release last week, Mr Sewell told the Jamaican Gleaner that he was forced to spend years under inhumane conditions at Her Majesty's Prison, Fox Hill, since renamed the Bahamas Department of Correctional Sevices.
He also alleged physical abuse while in custody, poor living conditions and a number of infringements of his legal rights.
Mr Sewell told the Gleaner that despite his freedom, he now carries a myriad of nightmares.
Mr Sewell's ordeal started back in June 2006 when, at the age of 18, he was granted a three weeks permit to visit his father in the Bahamas before finding himself accused of allegedly raping a six-year-old girl.
Nearly three years later he was charged with the alleged rape of his then girlfriend. Shortly after that, he was also arrested and charged with housebreaking and in March 2014 charged with murder.
By the time of his scheduled appearance before Justice Bernard Turner on October 31, 2014 concerning the murder case, the remaining cases he had pending were dismissed after years of awaiting trial.
The murder charge too was dismissed against him, however, he was turned over to the Detention Centre instead of being released.
Last Thursday, Justice Isaacs ordered that Mr Sewell's travel documents be returned to him immediately and that he be allowed 60 days to resolve his legal status in the Bahamas upon making an application to the Immigration Department.
Senior Justice Isaacs ultimately ruled that Mr Sewell's detention was not justified and ordered his immediate release.
Mr Sewell's lawyer, Fred Smith, QC, has said that his client intends to take civil action against the government.
Speaking on Mr Smith's comments Mr Mitchell said: "This seems to me to speak volumes about the nature of the individual actor with who we are dealing and to his credit or lack thereof."
He added: "…I remind people that the source of these public actions in the courts once urged citizens of this country to sue the government en masse in order to bankrupt the government."
Representatives of Mr Sewell told The Tribune that he is working to address the issues with his passport and other relevant travel documents, adding that once he had addressed those matters he would return to Jamaica.