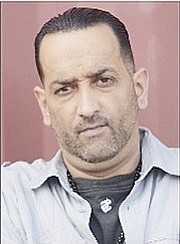 By NAUGHTY
naughty@tribunemedia.net
ALRIGHT here we go, I went 10-4 last week bringing me to 54-37 on the season.
This weekend I'm heading to New York to catch the Cowboys vs Giants game, but more importantly to catch up with my good friend, new Giants WR Dwayne Harris.
I'm sure a good time for all awaits, even more so for me, since my Cowboys are going to win.
• Here's who I like this week ... in rapid fire action, I've still got packing to do!
Seahawks v 49ers
Despite improvements on both sides of the ball and playing at home, I still like the Seahawks on the road over the Niners.
Old Colin Kaepernick shows up for the Niners as the LOD bounces back for Seattle
Seahawks 24 49ers 17
Bills v Jaguars
Ah yes, another American Football game across the pond. 'Jolly good'. Hopefully the game will live up to the 'billing' (pun intended) as both teams have been hit by injuries.
I like the Bills in this one behind LeSean McCoy running the ball and a fired-up Bills defence. If Tyrod Taylor is back at QB off injury I like the Bills even more.
Bills 27 Jags 20
Browns v Rams
Rookie RB Todd Gurley was well worth the wait!
He continues his impressive rookie campaign at home this week against a banged-up but feisty Browns defence. The Browns offence can score also, so this should make for an entertaining game which the Rams win at home, on the legs of Gurley.
Rams 24 Browns 23
Vikings v Lions
Two straight for the Lions at home?
No, I like the Vikings on the road in this one. Also QB Teddy Bridgwater is coming into his own and AP is still very much AP.
Vikings 23 - Lions 20 (OT)
Texans v Dolphins
I've been to these 1pm games in that toilet bowl for a stadium the Dolphins call home. I've also seen teams wilt in the Florida heat.
Interim head coach Dan Campbell (former Cowboy) has the 'Fins fired up and I think it continues at home this week. Dolphins right the ship.
Dolphins 27 Texans 20
Saints v Colts
One thing for sure: points are going up in bunches in this one.
To make a long story short, Colts at home in a shoot out.
Colts 38 Saints 30
Steelers v Chiefs
The Chiefs always play up at home, and this week will be no different. Sadly I don't see them getting rewarded with a victory for their efforts.
Steelers head coach Mike Tomlin is doing a great job getting the Steelers to buy into the 'next man up' theory. Next up at QB Landry Jones turns in another solid outing and RB LeVeon Bell gets his share in this one.
Steelers on the road!
Steelers 26 Chiefs 20
Jets v Patriots
I so want to take the Jets in this one! But, then again, the Patriots are at home, they own the Jets.
However, the Jets run the ball well with Chris Ivory and WRs Brandon Marshall and Eric Decker are becoming quite a tandem.
Add to the equation the weak corners in New England and the fact the Patriots have to put safety Devin McCourty in the box to stop the Jets running game, this could be a major problem for the Patriots defence.
It's a division matchup with no love lost, Todd Bowles' defence loves to pressure opposing QBs and CB Darell Revis knows those receivers well!
I'm talking myself into it I guess. To quote Billy Joel - 'I'm in a New York state of mind'.
Ah, what the heck. Let the upset bird fly, J-E-T-S on the road!
Jets 31 Patriots 30
Buccaneers v Redskins
'Coin flip' and 'Heads it is'. Bucs on the road in this one.
Washington isn't going anywhere with Cousins at QB while Lovie Smith has the Bucs believing and RB Doug Martin playing like the 'Muscle Hamster' again.
Bucs 23 Redskins 20 (OT)
Falcons v Titans
As they say in lounges and bars through out the country 'Plenty to lil bit in dis one'.
The Falcons are another road warrior this week, taking advantage of a severely injury riddled Titans squad, including QB Marcus Mariota who is out with a knee.
Falcons 38 Titans 20
Raiders v Chargers
Big AFC West shoot out here - points are going up often and in bunches.
I can't go against Philip Rivers who is red hot lately, win or lose. I like him in the role of winner this week.
Derek Carr and the Raiders are fun to watch but the Chargers get a much needed division win at home.
Chargers 27 Raiders 24
Cowboys v Giants
I'm going to the game.

Matt Cassel starts at QB.

Christine Michael finally makes me look good by starting at RB.



The Cowboys defence is back to full strength, all starters back off injuries or suspensions.

Division implications lie in the balance.

The possible return of Dez Bryant.

Giants are now injury riddled and lose a tough one on a short week to a division rival.
Cowboys 31 Giants 27
Eagles v Panthers
Oh Cam. Oh Cam!
Cam Newton on offence and the Panthers defence jump all over the Eagles, who come in hung over from a Monday night win and on a short week.
Panthers 27 Eagles 24
Ravens v Cardinals
Battle of the birds in this one, not much of a fight here. Ravens wings are plucked!
Cardinals rebound at home, where they are dominating after a tough road loss in Pittsburgh last week.
Cards 31 Ravens 23
• Naughty presents 'Mischief and Mayhem in da AM' from 6am to 10am, Monday to Friday and 'The Press Box' sports talk show on Sunday from 10am to 1pm, on KISS FM 96.1. Comments and questions to naughty@tribunemedia.net