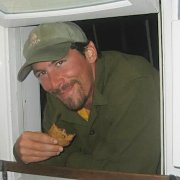 By LAMECH JOHNSON
Tribune Staff Reporter
ljohnson@tribunemedia.net
A MAN who claimed to be at home during the murder of an American sailor told a court yesterday that police detectives threatened to kill him and explain his subsequent death as an attempt to escape custody if he didn't sign a confession statement.
Craig Johnson was called on by Justice Indra Charles to give a defence to allegations that he pulled the trigger that caused the death of Kyle Bruner in May 2013.
The American sailor had been working as first mate on the Liberty Chipper sailboat that was docked in Nassau prior to Bruner being shot in the neck as he tried to help two women who were being mugged by two armed men.
The incident occurred on a Sunday morning.
Johnson waived his right to remain silent and took the witness stand to give sworn evidence concerning the testimonies of several police officers that he admitted to killing the tourist two years ago. He told his lawyer Nathan Smith that he was at home on May 13, when he heard police were looking for him to be questioned in reference to the shooting of Bruner near the Paradise Island Bridge.
The accused said he made contact by phone with Officer Clarke, who told him that he was suspected, along with others, of causing Bruner's death.
"I said I was home. 'I don't know nothing about no murder'," he reportedly told Mr Clarke.
"He told me he had to take me in for questioning and I met him through Clarkes Alley," Johnson added.
At the Central Detective Unit, Johnson said Sergeant Jamal Evans and Inspector Michael Johnson approached and took him to an interview room where they proceeded to take off their jackets and roll up their sleeves.
"They ask me if I ever been to jail before. I tell them 'no' and then Johnson said 'you know what we is do to young punks like you who is talk a bunch of (expletive)? We is kill y'all," Johnson alleged.
"After I tell him 'kill me for what?' He slapped me and I fell out of the chair" the jury heard. "I tried to get up but he kicked me to stay down. Evans asked me who kill the tourist and I said 'I don't know nothing about no tourist murder'," Johnson further explained.
He said Sgt Evans then fish bagged him while Inspector Johnson placed a foot on his back.
The following day, Inspector Johnson told him he was going to be taken on the road to point out some areas to them.
"I say 'sir, you trying to send me to jail for the rest of my life?' He tell me if I don't do it, he was going to kill me and say I tried to escape. That's why I did what he said. I was in fear for my life," the jury heard from the accused.
Johnson was cross-examined by Ambrose Armbrister, who suggested to the witness that he never told Officer Clarke he was at home at the time of the incident.
"I did," said Johnson.
"In fact, you told Clarke you were the one who shot the person," the prosecutor further suggested.
"No, sir," the accused said.
Johnson further denied that when he met up with Officer Clarke he said: "Boss, I gone tell you the truth. Me and my friend Bastian went to Double D's and met a friend who gave us a couple of dollars. I saw the white man who tried to take my gun and it went off. Later on I hear all kind of people say I murder the man. I just want to clear my name."
"You recalled when that officer gave evidence?" the prosecutor probed. Johnson said he did.
"Your counsel, on your behalf, asked him certain questions did he not?" the prosecutor asked. Johnson said this was so.
Mr Armbrister suggested that "at no point did counsel suggest to Officer Clarke that you told him you were home".
"I can't recall what all questions he asked him," Johnson said.
"In fact, your counsel suggested to Clarke you were co-operative with him," the prosecutor suggested.
"I co-operated with him. I tell him I was home," the jury heard from the accused.
"The reason why your counsel never made that suggestion was because you never told him that you were home," the prosecutor said.
Johnson said he was at home.
The trial resumes today for the remaining accused men to give their defence to the allegations.
Leo Bethel, 21, Anton Bastian, 21, Jamaal Dorfevil, 30, and 23-year-old Marcellus Williams are also alleged to have murdered Bruner.
Like Johnson, they are further alleged to have accosted the two women while armed with a firearm, robbing one of $150 cash and her $3,000 handbag and the other woman of cash, a handbag and an iPhone.
The men are defended by Ian Cargill, Roberto Reckley, Sonia Timothy and Walton Bain.