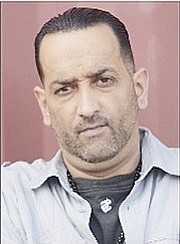 By Inigo 'Naughty' Zenicazelaya
THIS past weekend was truly an enjoyable and rewarding experience, with a little 'irony' thrown in for good measure. Despite my Cowboys taking a big fat L on the road in Met Life Stadium, my weekend had way too many upsides to let that affect me. Here's how it all went down...
Friday, October 23
MY wife, Jamie and I arrived on Friday at JFK just in time for rush hour traffic, but nonetheless the trek to collect the rental car and the subsequent drive to New Jersey had to be done. Also my Uncle Nick (my father's brother) had the best paella in New York/New Jersey (best in the world in my opinion) waiting on us, as well as my cousins with my favourite libation in hand.
This was truly an added bonus that my job at the Tribune afforded me, and I thank management for the tremendous opportunity to cover my beloved Cowboys, all while enjoying the company of family and close friends, who I will mention in short order. Also there were some real ironic moments that made this trip even more fun.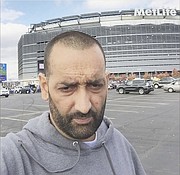 After visiting with my family, and eating like an absolute hog, I introduced them to that fine Bahamian art form known as 'toting' we bid them farewell and headed to visit my good friend Giants wide receiver and special teams ace Dwayne Harris #17.
It's always fun hanging with Dwayne, he's truly good people. I'm quite sure if he never played a down of football in the NFL we'd still be good friends. While chatting and planning his next visit to the Bahamas in the offseason, I reminded him as I interviewed him for 'The Press Box' sports talk show (Sunday's 10am - pm on KISS96FM) I expected a touchdown out of him, I didn't come all the way from the sunny, warm Bahamas to freezing (it was 55•) New Jersey not to see him score. (Those words ironically would later come back to haunt me. My mouth had done it again.)
After visiting we collected our game tickets from Dwayne and retired to our hotel, the 'itis' that affects most full bellied Bahamians was taking its toll on us. Finally my wife and I made it home, ready to catch some well deserved Zs.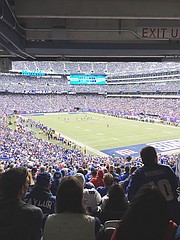 Saturday, October 24
Saturday was upon us, and there was much to do, firstly we had to get together with one of my oldest and best friends, my high school and college basketball team mate Rick Medina, a New Jersey native, and one of the best small forwards I've ever played with. Full of smack talk (just like me) to go along with a great sense of humour.
Our college days were filled with many adventures, road trips and lifelong memories and stories. I loved watching my wife's face turn like the seasons, from happy to laughing hysterically, to being shocked, back to laughing hysterically!
Rick is Cuban American and so we had the best Cuban food in Jersey City.
From there the mission to collect my press credentials for the game and track down an infamous Met Life parking pass (very similar to Junkanoo VIP tickets for Boxing Day).
My wife being the MENSA mind she is, simply found one and purchased it online, all while my friend Rick and I tried to find one aimlessly, wandering around like a couple of zombies in Met Life Stadium parking lot. My Wife allegedly has the video evidence of our 'zombie march' ...Good God!!
Sunday, October 25
Gameday, and it turned out to be one of the most 'ironic' and busiest days we would have had, covering sports. After experiencing why Met Life Stadium was voted the number one tailgating stadium in America, it was virtually a smorgasbord buffet until game time. Eats and drinks galore.
In we went to prime seats provided for us by Dwayne Harris, and one heck of a game, a roller coaster of emotions, filled with ups and downs for all involved.
While I ventured to the press box for an even more spectacular view, I also snacked on a scrumptious lunch buffet for press only, (they didn't allow me to tote however) after 'mashing' as we say, I headed to the field tunnel to catch Bahamen's halftime performance. Ironically the head of security from that section of Met Life stadium greeted me by name "Hello Naughty, Mr Jokers Wild." Apparently he has vacationed annually for the last eight years at the Harbourside Resort catching the comics at Jokers Wild. Touché! Bahamen weren't the only 'celebrities' that day!
Hats off to Bahamen, our country men and homeboys had that stadium rocking as they did their thing completely decked out in Giants gear.
(In retrospect I think that influenced the outcome of the game, not one of you, not even Isiah could have worn some cowboy gear? And they are all known Dolphins fans.)
I digress, their performance was stellar complete with front men Dyson Knight and Rik Carey climbing the speakers. I'm quiet sure the MOT Office will see a spike in visitors from the east coast after this one. That's how strong Bahamen performed. Respect brothers, job well done.
Meanwhile, while I was sneakily filming Bahamen's performance, since I already knew from my time upstairs in the press box that FOX would not air it, (I don't know how it made it to FB) my wife Jamie was busy winning The Verizon Wireless "Lucky Seat Celebrity Meet and Greet."
And boy did she win, she got to meet Giants legend and two time Super Bowl champ Steven "The Touchdown Maker" Baker and Marishka Hargitay star of Law and Order SVU. My wife has got the best luck in the world!

I settled in for the third quarter and proceeded to watch Matt Cassel play give and take with the Giants' defence squandering the Cowboys' halftime lead and now after a pick six by Dominque Rodgers Cromartie it turned into a seven-point deficit, on the road in the fourth quarter.
To their credit Cassel and RB Darren McFadden kept fighting, Cassel finally tying the game on a brilliant throw and beautiful tip toe catch in the back corner of the endzone by WR Devin Street.
My mouth was hard again, the Giants fans now had to hear me "carry on bad fish fry style" as I made my way back up to the press box for the final 7:40 of the game, enough time to stop the Giants and get the game winning score and get out of here with a hard earned, ugly, mistake ridden win.
Not!!
Irony saved her best performance for last, as I peered down from the press box the strangest thing happened, my boy, Dwayne Harris pulled out the dagger and dealt his former team my Cowboys the death blow, all while delivering on his touchdown promise to me the night before.
Harris nestled under the kickoff, cut right untouched, made a move to the middle of the field untouched and darted away from the rest of the Cowboys special teams unit (utterly in disarray since Harris departure in free agency) for the game winning score. From my vantage point he looked like he was running straight at me.
Truth be told I didn't care one bit my 'homie' beat my Cowboys, I was genuinely happy for my friend, all his hard work was being rewarded.
Cole Beasley's muffed punt with 45 seconds left was the final nail in the Cowboy coffin, and further proof 'Jerry' paid the wrong receiver in free agency, while the Giants paid for the right one. We miss you in Dallas Dwayne!
If my day couldn't have gotten better, even though the boys lost, it did. I caught Jerry Jones press conference and I got player interviews from both locker rooms (no player wardrobe malfunctions) including Giants Dwayne Harris and Eli Manning. As well as Cowboys Morris Clayborne, Brandon Carr, oh and a very angry growl from Greg Hardy, but we all know why. Scary nonetheless.
As I exited the locker room heading to the exit to meet my wife, who do I bump into...Marishka Hargitay from Law and Order SVU, and I got my picture too!! In the words of Charlie Sheen 'Duh, Winning'
I did win big this weekend, I wish my 'Boys' could have done the same.
Keep the faith though Cowboy nation we aren't dead yet, we've got lots of football left, and Dez and Romo are on the way to the rescue.
Thanks to my Radiohouse and Tribune family for all their behind the scenes contributions in making this a successful and unforgettable trip.
Oh, and in closing, I just want you all to watch a certain baseball team from Kansas City win the World Series in six games just like I predicted right here in an earlier Sporting Mischief and Mayhem column. Hmmm...I wonder if the boss can get me press credentials for that too?
Until next week, may all your hits be game winners.