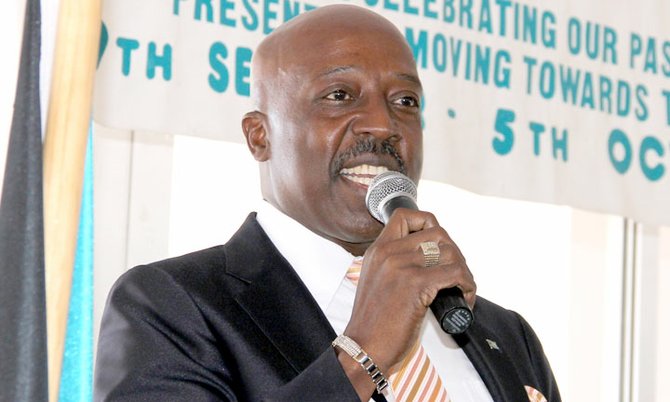 By RASHAD ROLLE
Tribune Staff Reporter
rrolle@tribunemedia.net
LABOUR Minister Shane Gibson acknowledged "concerns" about how government will fund the first phase of its National Health Insurance scheme, which is expected to be rolled out next January, in view of recovery efforts for Hurricane Joaquin.
In light of this, he said the idea is to introduce a "minimal benefits package" that would increase over time.
Questions about how the government would fund the scheme existed well before the category four storm devastated the southern Bahamas earlier this month.
The government has said that no new tax or National Insurance Board contributions increase would accompany the first phase of NHI.
"There is concern (about NHI funding) for everybody, particularly in light of what happened with Hurricane Joaquin," Mr Gibson told reporters yesterday. "Even before the hurricane, we had a lot of infrastructural improvements in a lot of Family Islands like the roads between Salina Point and Spring Point (in Acklins), roads between Central Andros and North Andros, roads in Crooked island, a lot of sea walls we're working on, a lot of roads in New Providence need a lot of work.
"So when you look at the amount of money we have to find to do our normal maintenance and upgrading of infrastructure and then to top it off to have all the infrastructure damage and damage to facilities after Hurricane Joaquin, I think funding for any major project at this time is a concern for the government. So certainly when it comes to NHI, the fact is it's important to this government – it's a priority – it's something we promised prior to the election. There is concern as to how we will do the funding and that's why I think the idea is to introduce a benefits package that is minimal at this time and then you increase the packages over time but not to be too heavy on the packages that we intend to introduce initially."
The Christie administration is expected to work with consultants this week on the NHI plan.
The government has proposed that the first phase of the NHI scheme will cost $60m.
Despite Mr Gibson's statements about a minimal benefits package, the government has previously said that the first phase of the NHI scheme would see changes implemented to strengthen the nation's existing health care system.
A substantial amount of that money allocated for the first phase will be spent on infrastructure upgrades and improvements, officials have said.
The government plans to phase in NHI over five years.