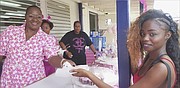 IT was a celebration of life. Students, staff and faculty of The Bahamas Technical and Vocational Institution recently converged to "paint the town pink" and more importantly, support breast cancer awareness during its "Pink Wednesday" celebrations.
The fifth annual event was evidence of BTVI's efforts to take its role as a community partner seriously. Therefore, the campus was abuzz with excitement leading up to the activities.

The community service event also proved to be informative and all proceeds will go to The Cancer Society of The Bahamas. With the aim of sharing the importance of early detection with attendees, an information booth manned by campus nurse, Voreetis Barr, was considered vital. It is known that early detection increases survival rates. Nurse Barr encouraged those attending to manage their own health by providing them with simple measures such as self-examination, eating healthy and exercising.
The event coincided with the mission of the Student Affairs Department, which organised the event.

"We want to create the type of citizen who not only earns money, but gives back," said Dean of Student Affairs Racquel Bethel.
Ms Bethel also noted that The Cancer Society of The Bahamas continues to extend its reach across the Family Islands. With cancer patients being on islands, including those affected by the recent hurricane, Ms Bethel said she feels BTVI's contribution will be a fitting tribute to cancer survivors.

Last year, BTVI's fashion instructor, Kathy Hamilton-Pinder, created a pink tutu and bustier as the centrepiece, while this year, the Cosmetology Department produced what was dubbed, 'The Empowered Lady.' It was a mannequin of a woman with everything from pink clothes to pink eyelashes and lipstick, nails and hair. She represented the woman who has survived the struggle.