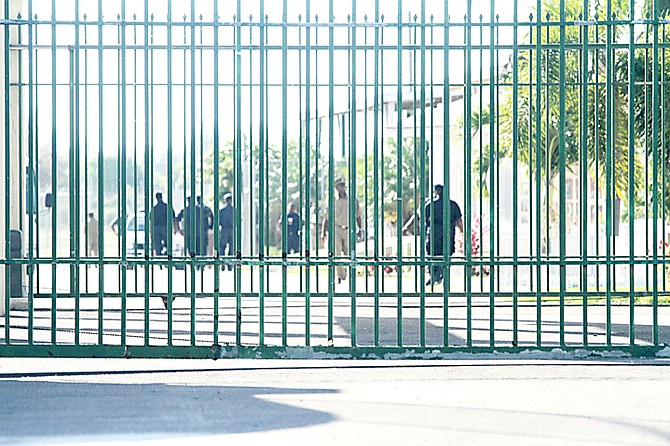 By RASHAD ROLLE
Tribune Staff Reporter
rrolle@tribunemedia.net
THE Bahamas Correctional Officers Association wants the Christie administration to disclose financial statements and audits related to the Department of Correctional Services amid concerns of how the facility's money is used.
BCOA Chairman Gregory Archer estimated yesterday that the Bahamas Department of Correctional Services, formerly Her Majesty's Prison, makes millions of dollars per year through its various services, including its commissary.

However, he decried the fact that his association is not privy to information concerning how the money is secured and used, even though it represents prison officers.
For his part, Auditor General Terrance Bastian could not say when was the last time that his department conducted an audit of the prison, although he acknowledged that there are plans in place for his department to do so.
The Tribune understands that within the last two years an audit of the correctional facility was done by the Ministry of Finance's internal audit department.
A source familiar with the audit, who spoke on the condition of anonymity, said it revealed areas where "controls ought to be tightened."
The concerns of prison officers comes as they continue to express frustration with their working conditions and a government they believe is unresponsive to their problems.
Mr Archer said: "We need to look at things like this. I can't accuse anybody of wrongdoing, but talk of corruption in this place has been going on for years.
"Most of the staff complains that despite the amount of money made, they have no idea where the money is going. We have different things going on. We have the commissary. We have the inmates' industry selling straw items. But when you ask for boots or new uniforms, which are obligated to you, they say there's no money for it. Who is policing the money? We are the association representing the officers, but we don't know.
"If we write about this, they would tell us that it is not our concern. Selling food to inmates produces about $16,000 a day, but what does the prison have to show for this?"
"The staff complains that they can't get certification training or uniforms on a daily basis, which is important as the prison transitions into more of a correctional services unit. But to be trained you need money. Officers go on trips but they don't get certification to help them with their mobility on the force. We have to be able to go on courses with teeth to it.
"We have never gotten a response when we ask for an audit. We will never know what's going on," Mr Archer said.
Concerns about the prison's finances are not new.
In 2004, then National Security Permanent Secretary Mark Wilson acknowledged that the auditor general's office had suggested that the ministry conduct a formal investigation into the prison accounts.
It came amid allegations at the time that $2 million had gone missing.
More recently, in 2012, a US Human Rights report described how the commissary account of a deceased prisoner was "exhausted by unauthorized persons," adding that "there was significant evidence that prison officials failed to ensure the security" of that person's account.
Attempts to reach officials at the correctional facility, Ministry of Finance and Ministry of National Security were not successful up to press time yesterday.