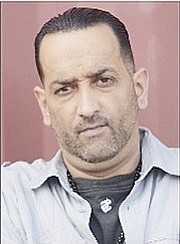 By Naughty
naughty@tribunemedia.net
I WENT 7-7 in a very surprising and borderline whacky week. Considering all that transpired, I'll take it. Here's who I like this week :
MIAMI vs
NEW ENGLAND
Big AFC East match up here, red hot Dolphins vs the undefeated Patriots in New England. The clock strikes midnight on Cinderella this week, and the Dolphins revert to their old selves.
PATRIOTS 27 -
DOLPHINS 20
Detroit vs K.C.
How this is a 'home' game for the Chiefs in London is beyond me. Be that as it may, I like the Chiefs against a banged up and ornery Lions squad. Alex Smith and Jeremy Maclin do just enough to rally the Chiefs to a big 'home' win!
CHIEFS 24- LIONS 17
T.B. vs Atlanta
The Falcons have played 'down' to the level of their competition, recently losing to the Saints, and barely escaping Tennessee with a win.
Nonetheless they are at home, and the Bucs look snake bitten after blowing that big lead against Washington. Falcons soar!
Falcons 31 - Bucs 23
Arizona vs
Cleveland
Despite it being a 1pm east coast kickoff, the Cards continue with their winning ways. The Browns are too injury riddled to pull it off.
Cards 31 - Browns 17
S.F. vs St Louis
Always a grudge match when these two NFC West rivals square off. Because I like Rams RB Todd Gurley over Niners RB Carlos Hyde in this one. Rams at home!!
Rams 23 - Niners 20
NY Giants vs N.O.
Sean Peyton will have the Saints ready for this one. The Giants have injuries all over and I don't think lightning strikes twice for them on the road. Let the good times roll, Saints at home.
Saints 34 - Giants 27
Vikings vs Bears
Coin Flip ..... Vikings on the road!!
Vikings 23 -
Bears 20 (OT)
S.D. vs Baltimore
Despite it being a 1pm east coast game, Philip Rivers goes off on a very weak Ravens secondary. Chargers right the ship with a big road win against a fading Ravens squad.
Chargers 29 - Ravens 20
Cincinnati vs Pittsburgh
'Big Ben' is back Steelers win at home!
Steelers 31 - Bengals 27
Tennessee vs
Houston
Coin flip... Texans at home! Texans 27 - Titans 17
NY Jets vs Oakland
J- E - T - S !!! Jets, Jets, Jets !! On the road, Jets over the Raiders.
Jets 26 - Raiders 17
Seattle vs Dallas
Can't believe I'm doing this, oh the shame!! Seahawks win on the road.
Seahawks 27 -
Cowboys 23
G.B. vs Denver
Another coin flip here, hmmm... Okay Packers on the road!! I got this funky feeling!!
Packers 27 - Broncos 26
Colts at Panthers
'Oh Cam, oh Cam,' enough said.
Panthers 26 - Colts 24