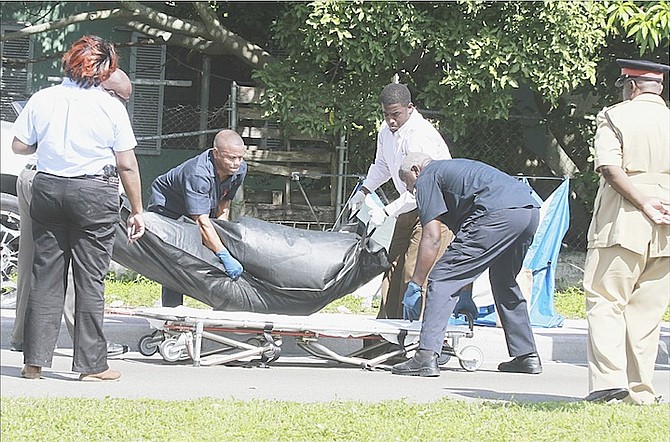 By KHRISNA VIRGIL
Tribune Staff Reporter
kvirgil@tribunemedia.net
A 45-year-old father of seven was shot multiple times before later dying on the sidewalk of Tonique Williams Darling Highway yesterday morning after he and his brother were held up by several gunmen near his home in Yellow Elder Gardens.
His killing was the second murder that occurred yesterday and pushed the country's homicide count to 124 for the year, surpassing 2014's year-end total of 123 murders. The country is on pace to smash the murder record held in 2011 during the Ingraham administration, which saw 127 homicides.
The latest murder victim has been identified as Linden Taylor. His brother suffered gunshot injuries during the attack and was taken to hospital for treatment. However, Taylor died on the side of the eastbound lane of the heavily trafficked highway, opposite a local bakery.
When The Tribune arrived at the scene, the victim was lying on the sidewalk covered in blood, as investigators carried out their preliminary work.
An SUV, said to be his brother's vehicle, was parked nearby, riddled with bullet holes and splattered in blood.
According to Chief Superintendent Paul Rolle, shortly before 11.30am, police were called about a shooting at Eaton Street in Yellow Elder Gardens, which is just behind the highway.
Mr Rolle said: "Our preliminary information is that this man (the victim) was at home along with his brother when persons accosted them armed with handguns and then began discharging shots at both of them.
"(The victim) ran from the residence at Eaton Street towards Tonique Williams Darling Highway where he collapsed in the street suffering from his injuries.
"The brother was also shot and his injuries are not life threatening. We believe he was transported to hospital where he is now being treated."
Chief Supt Rolle said police did not have a motive at this stage. However, they did not believe that the incident was connected to another murder that occurred before 3am yesterday.
Karen Bastian, a woman who identified herself as the sister of both Yellow Elder victims, called for justice. She said the incident brought back chilling memories of her only son's death eight years ago. He died in a drive-by shooting, she said.
Fighting back tears, she described her brother as someone with a checkered past. However, she said, he had been staying on the straight and narrow path for the last 10 years.
She said: "Everyone has their past but he was a very good person. He is the fourth of six children and was a very quiet and passive person.
"He was holding a government job, you know on the contract. And that is what he did every day. He did the same routine every day, so I believe that somebody was following him.
"He is not a troublesome person. Everybody has a past, but definitely in the last 10 years not one thing was heard of him and he hasn't done anything."
Ms Bastian said she was just thankful that her mother and sister were not at home, because there could have been more fatalities.
Police are also investigating the shooting death of a man who was killed yesterday at Augusta Street off Poinciana Drive around 2.30am.
This incident claimed the life of a 37-year-old man. Police have not released his identity.
Chief Supt Rolle said the man and a woman were standing in front of a home when four persons pulled up in a vehicle and opened fire.
He said: "What we know is that this 37-year-old male, he was standing in the street along with a female companion when four persons we believe pulled up in a blue Honda vehicle and exited.
"One of the men produced a handgun and began discharging shots at the individual. He ran one way and the female companion ran the other way and several shots were fired. She contacted the police after she called out for him and didn't hear him after the men got back in the car and left."
He said officers arrived on the scene and made a check of the area where they found the male in a yard a few houses away suffering from gunshot injuries.
He was declared dead at the scene.
Police are appealing to members of the public to come forward with any information to assist investigators with solving both murders.
While in opposition, the Progressive Liberal Party campaigned on the premise that it had the solutions to violent crime while the Ingraham administration did not. However, since winning the last general election in 2012, the Christie administration has struggled to get a grip on the growing problem.