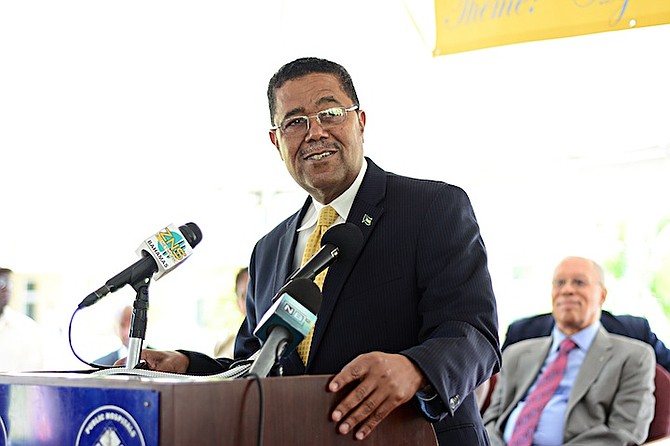 By NICO SCAVELLA
Tribune Staff Reporter
nscavella@tribunemedia.net
HEALTH Minister Dr Perry Gomez yesterday said government's consideration of a new tax to fund its proposed National Health Insurance scheme is "not surprising," stating that the best way to pay for the plan is "through some tax where everybody is paying a little bit toward a single goal."
However, Dr Gomez told The Tribune that he has no specific insight on what the government plans to do to fund NHI. Nonetheless, he said, that for a "project as huge as NHI will be, we have to pay for it somehow down the road".
Dr Gomez also insisted that the Christie administration will be "on point" to begin registering people for universal health coverage on January 1, 2016.
Dr Gomez's comments came a day after Prime Minister Perry Christie stressed to the media his determination to implement National Health
Insurance (NHI), adding that the government would not do anything to upset the economy in deciding how to fund the programme in its later stages.
The government has previously said it would not roll out a new tax for the first phase of the scheme, which will come on stream in January 2016.
However, laced in Mr Christie's comments on Wednesday were hints that the government might seek to impose a new tax in the 2016/2017 fiscal year to fund the proposed scheme, which its international consultants have said may cost upwards of $600 million on the high end.
"I don't know specifically what is planned yet if it is planned at all yet," Dr Gomez said when asked yesterday. "But the prime minister indicated that in funding of NHI in the future that they are considering a tax, or a consideration of some sort of tax. And that's not surprising.
"It shouldn't be, I think, because that's how government's fund their programmes, through taxation. So it shouldn't be a surprise that some form of tax for some project as huge as NHI will be, we have to pay for it somehow down the road."
He added: "I think people may be confusing paying for service at the point of service. That is not what the prime minister is talking about. He is talking about the programme. NHI will be a huge programme for this country. And so we have to fund it and I'm sure that the best way to do it is through some tax where everybody is paying a little bit towards a single goal."
When questioned if the government was still on target to meet its January 1 deadline, Dr Gomez said: "As you know we're going to start with registration, and for the first four months or so the programme begins with the registration of the population, and we will proceed with that. And then the next phase comes in. It's a phased programme. So we'll be on point."
According to Sanigest Internacional, the government's Costa Rican consultants on NHI, the scheme could cost up to $633 million annually if implemented as a comprehensive package. On the low end, NHI could cost around $362 million.
The government has allocated $60 million for the first phase of NHI.
However, on Tuesday, Labour Minister Shane Gibson acknowledged that the government is concerned about how it will fund NHI, concerns which are further exacerbated by the devastation caused by Hurricane Joaquin and how much it would cost to fund restoration efforts throughout the affected islands.
On Wednesday, however, Mr Christie stressed that no matter the government's decision, anything his administration does "will be matched to what the economy can absorb at a particular time".
"So even if rates come in the next budget year, those rates will in fact conform to what we would regard as the obligations of the government to ensure the economy is not unduly disturbed by any rate or tax that we impose," said Mr Christie, who is chairman of the National Public/Private Sector Task Force responsible for the phased-in implementation of NHI.
"…We're going to do it in the sensible way. I think the government made a commitment to taking steps that are in the best interest in the economy of the country and doing nothing to disrupt the economy."
Mr Christie added: "We do not want to start with people misunderstanding what we are doing and having a raging debate over whether or not we should introduce a programme that is more fundamental to the existence of our civilization in this country than any programme we have ever done".
NHI will be phased in over a five-year period, the government has said.