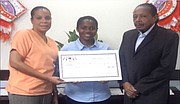 FOR her creativity in supporting the effort to raise awareness of sickle cell disease, Kerri Bascom received a $500 cash award.
Ms Bascom took part in the Bahamas Sickle Cell Association Logo Competition and her design was chosen from 34 entries across the islands.
The logo competition was hosted in order to give the public an opportunity to focus their energies on finding out more about sickle cell disease and to raise awareness of its impact on persons living with the disease.

The contest period was July 9-July 31 and was open to anyone interested in submitting an entry. The criteria expected of the entrants was originality with a Bahamian twist, artistic composition, suitability for reproduction on various paraphernalia, incorporation of a maroon colour and the use of BSCA initials. In order to give the competition the level of serious consideration it deserved, there was a $5 entry fee.
The BSCA thanked its two judges, artist and education consultant Celeste Williams-Mitchell and architect Montgomery Pratt, who are no strangers to the art world. Both are entrepreneurs with national and global exposure.
"We are grateful for their support of our inaugural event as this is the first vital step in strengthening our brand and ensuring that the visual connection is made to sickle cell disease in the Bahamas," the BSCA said.
World Sickle Cell Month
September is as World Sickle Cell Month. BSCA is pleased to advise the public that it has planned a series of events to commemorate the month as follows:
• Saturday, September 5 – Fun run walk, with a route that starts at Goodman's Bay and continues on to Sandyport and back
• Saturday, September 26 – Mini fair and raffle on the Eastern Parade, East Bay Street, 12noon to 6pm.
" (We) are pleased that our winner Kerri Bascom was able to capture the best representation of the BSCA as an organisation in pursuit of public awareness. It is also important to note that all claims to any and all copyrights, royalties and other benefits derived from the sale or reproduction of this work was relinquished by the winner."
Ms Bascom added: "I am a 20-year-old student currently pursuing a degree in civil engineering at Queen's University in Canada, while also pursuing my interest in art. I specialise in portraits and paintings, but I am always eager to branch out into all forms of art. I started art in high school under the tutelage of my esteemed art teachers Sree Batta and Moya Strachen at Queen's College. They encouraged me to branch out into the art field and introduced me to the Art Enrichment Centre where I further developed my art style. I am grateful to have been able to utilise my talent to design a logo for the BSCA and aid in their mission to promote awareness of sickle cell disease in our community."
Ms Bascom's winning logo depicts a group of normal red blood cells surrounded by a 'family' of sickle cells. The heads of the family members are represented by the typical sickle cells and the bodies are represented by the modified/deformed sickle cells with a darker maroon colour. This composition gives the illusion of a family made of two parents and one child. In addition, the child's head is composed of two sickle cells because the child is only able to inherit the condition if both the parents have the trait. Therefore, the two sickle cells represent a sickle cell trait from each parent. The blue marlins were added to the logo to give a Bahamian twist, as they are the national fish of the Bahamas. However, what makes them special was their symbolic shape; each blue marlin is aligned in the shape of a sickle cell.
Sickle cell anaemia is a blood disorder that affects haemoglobin, the protein found in red blood cells that help carry oxygen throughout the body. Sickle cell anaemia occurs when a person inherits two abnormal genes (one from each parent) that cause their red blood cells to change shape. Instead of being flexible and disc-shaped, these cells are more stiff and curved in the shape of the old farm tool known as a sickle — that's where the disease gets its name. Instead of moving through the bloodstream easily, these sickle cells clog blood vessels and deprive the body's tissues and organs of the oxygen they need to stay healthy. Sickle cell anaemia is one of the world's foremost fatal genetic diseases that has severe physical, psychological and social consequences for those affected and their families.
BSCA is a non-profit organisation that seeks to promote awareness of sickle cell disease in our community. Originally founded in the late 1970s by Dr Patrick Roberts, the BSCA was once one of the largest and most active associations in the Bahamas. The BSCA has recently been revived by a group of people who are personally affected by sickle cell disease.
The objectives of the BSCA include but are not limited to the following:
• To facilitate public awareness of sickle cell disease in the Bahamas
• To provide support through group sessions and financial aid for people and families affected by sickle cell disease
• To promote education and provide material to facilitate crisis management