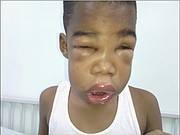 By JEFFARAH GIBSON
Tribune Features Writer
jgibson@tribunemedia.net
A BAHAMIAN mother continues her fight to push for increased awareness of her son's life-threatening illness. And even after receiving support from the public, Angelica Miller still finds herself in an extremely challenging position as she seeks financial assistance to purchase medication for her six-year-old son Tarique Miller, who was diagnosed with hereditary angioedema (HAE).
HAE is caused by a low level or improper function of a protein called the C1 inhibitor. With HAE, the blood vessels are affected and an attack can result in rapid swelling of the hands, feet, limbs, face, intestinal tract, larynx (voice box), or trachea (windpipe).
Attacks of swelling can become more severe in late childhood and adolescence.
During flare-ups, the body experiences major swelling, particularly in the chest cavity, resulting in restricted breathing. Patients suffering with the condition are unable to produce the necessary protein needed to reduce swelling and fluid retention in the body.
Most attacks, Ms Miller said, happen spontaneously with no apparent reason. To combat the attacks – which can last up to six days – Tarique requires medication that costs $3,500 per dose.
"This medication is something that he needs every time he has an attack. He has attacks like twice a month. But the hard part about it is knowing when he will have them. I do not want the attacks to come when he does not have the medication, which is why I am doing all kinds of things to keep them on hand," she said.
"The medication that he needs is very expensive and gets more expensive as he gets older. This is something that he has to deal with as he continues to grow."
Ms Miller said the medication also has to be administered by emergency medical personnel.
"I can't give him the medication myself. I wish I could, but I can't. Even if he has an attack or a small prick on his face he has to go to the hospital because they have to monitor him," she said.
Before he received the HAE diagnosis, Ms Miller said the general assumption by the family was that Tarique was having an allergic reaction.
"I spent so much money on testing and the tests would come back negative because he never had an allergy. This (HAE) is actually in his genes and he has had this since he was three years old.
"When the attacks first started happening I panicked because I did not know what it was. The doctors treated it as though it was an allergy. After a while they realised that he stopped responding to the allergy medications that they were giving him. None of those allergy medicines help my child, so I don't even waste my time giving him any of them," Ms Miller told Tribune Health.
Last October, after receiving treatment for some time at the Princess Margaret Hospital, Ms Miller received written notice that the facility would no longer be able to treat Tarique and requested that the family seek further evaluation at the Joe DiMaggio Hospital in Florida.
"All that time I was over here trying to figure out what was wrong with my child and I could not find out because they did not have the proper equipment to perform the test that was needed; that was the reason why they recommended that we go to the US to Joe DiMaggio," she said.
In mid-November, the family's worst fears were confirmed when Tarique was diagnosed with 100 per cent hereditary angioedema, meaning he would need more than regular injections to help battle his condition and that he would need extensive treatment over the course of his life.
Every six months he is required to travel to Florida for a checkup.
Ms Miller continues to appeal for help in meeting the costs of Tarique's medication and biannual check ups.
"I have received support from many people and I am very grateful to them for assisting us. I will just continue praying and seeking God's help in this all," she said.
Those who wish to give assistance can do so by donating to the RBC Royal Bank of Canada account number 730-2227 or by contacting 447 9311.