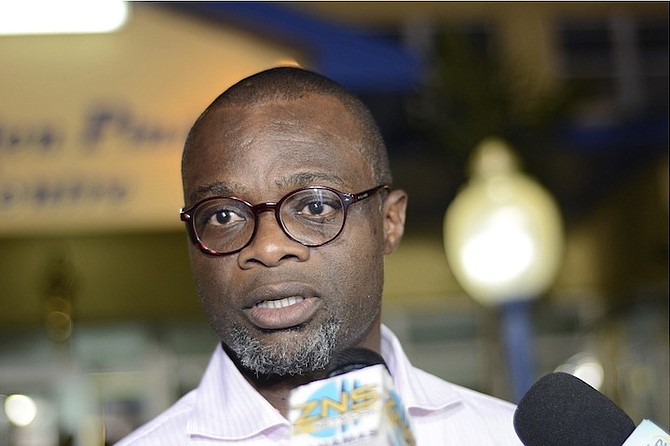 By TANEKA THOMPSON
Tribune News Editor
tmthompson@tribunemedia.net
FORMER Chairman of the Progressive Liberal Party Raynard Rigby hinted yesterday that he might run for the position of PLP leader at the party's convention in November.
"... The Bahamian people want new, fresh leadership so I'm putting my name on the list," Mr Rigby said, while appearing on the Star FM radio show, Jeffrey, with host Jeff Lloyd.
When asked by the show's host if he had consulted his family about this, Mr Rigby answered: "My children who are listening ... know that I am putting my name on the list because I have decided that my responsibility to them and to other young children like them is to work hard to ensure that I do my part in making the Bahamas a better place for them and their children and their grandchildren. I am putting my name on the list."
However, when contacted by The Tribune to elaborate, Mr Rigby declined to say if this meant he will challenge incumbent party leader Perry Christie at the upcoming convention.
"I'm going to put my name on the list," was all he would say.
While on the show, Mr Rigby discussed the PLP's chances of winning the next election and the need for "fresh blood" within the party.
He stressed that the PLP has to begin the transition to new leadership sooner than later and must court young voters if it wants to hold onto power.
"We can't be talking about building a bridge to the future for the next 20 years," Mr Rigby said. "The bridge ought to have been built, got to be ready to be walked on, ran on and travelled on and we have to ensure that we are ready to position the party for the new kind of Bahamian that is upon us."
He added: "There are a group of leaders in our party, and I say leaders in a broad sense, who do not get what the new Bahamas is about. Who don't understand the degree of suffering and hopelessness that so many are feeling out there, who don't recognise the level of despair that people are feeling. They are out of depth."
Mr Rigby said younger members of the PLP are "frustrated" with the party for not living up to their expectations.
"And that's why it's important in the next convention for us to ensure that the party reflects the new Bahamas. The days of marshalling support by those who are pensioners are over. If you look at the demographics of the Bahamas, the people who are going to determine the next election are those between the ages of 18 and 35, maybe 38.
"If the PLP is to win the next election, the party's leadership must reflect the demographic so that we can reach out to them, talk to them, understand their sufferings and disappointments, make the necessary corrections and lay out a vision and plan which corresponds to what their shared view is of the future of the Bahamas."
Last week, during an interview with The Tribune, Mr Rigby challenged party leader-hopefuls to put themselves up for nomination regardless of whether Prime Minister Perry Christie decides to seek another term.
At the time, Mr Rigby said politicians could not expect leadership to be handed to them on a "silver platter", and forecast that Mr Christie will remain tight lipped over his political future because he expected them to battle it out just as he did.
He said there was no such thing as "succession planning" in politics as he called for potential candidates to make good on their intentions and put up a fight for top post.
Earlier this year, Minister of Tourism Obie Wilchcombe and Minister of Works Philip "Brave" Davis both revealed their ambitions of leading the PLP and one day becoming prime minister.
However, both men said they would not challenge Mr Christie for the party's top post if he decides to stay on.