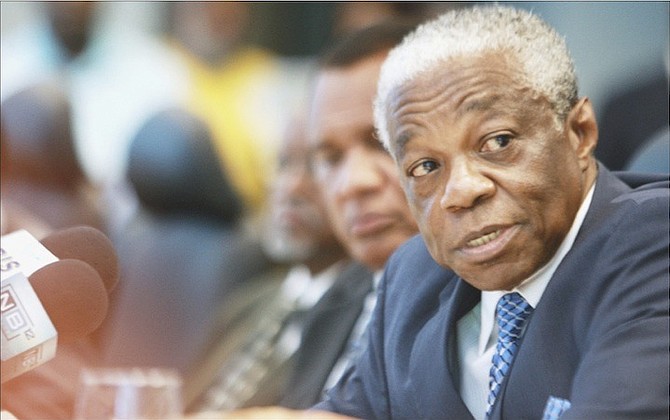 By AVA TURNQUEST
Tribune Chief Reporter
aturnquest@tribunemedia.net
FREE National Movement Chairman Michael Pintard yesterday called for Prime Minister Perry Christie to replace National Security Minister Dr Bernard Nottage over his uninspired and lethargic response to mounting crime.
Mr Pintard underscored a critical need to secure a credible alternative for the post, adding that State Minister for National Security Keith Bell was "substantially worse."
He was responding to Dr Nottage's recent assertion that his critics were in for a "sad awakening" if they thought there was a quick fix for crime.
"What's sad is that he's just realised it," Mr Pintard said, "because he was one of the persons most critical of the former government. He is asking for a bipartisan approach now, which is what our (FNM) plan has always been.
"He is ill-suited for the job, his comments are pretty much the same. Now that the shoe is on the other foot he has a different look on the matter. He's out of energy, out of ideas."
"The prime minister needs to look at an alternative, someone who would have credibility to deal with these issues. Dr Nottage is not it, and Keith Bell is substantially worse than him," Mr Pintard said.
At a forensics training workshop on Tuesday sponsored by the US Embassy in Nassau, Dr Nottage said that crime was not the fault of the government, and insisted that he never blamed the former administration for the situation.
However in 2011, he told parliamentarians that the Ingraham administration's "ineffectiveness" had resulted in a "crime explosion."
In defence of the government, this week Progressive Liberal Party Chairman Bradley Roberts argued that his party was the only organisation with a plan to tackle crime.
His statement came even though the homicide count for this year is steadily outpacing the figure for 2014 at this point. Up to press time, there were 99 murders recorded. At the end of August 2014, the country had recorded 84 murders, according to police statistics.
Yesterday, Mr Pintard maintained that the FNM has a 26-point plan to tackle crime.
Central points of the FNM's scheme include: ramped up police presence; gun amnesty; strengthened intelligence through networking with community leaders and faith-based groups; increased use of technology, such as gunshot detection devices, mobile forensic equipment, and drones; victim counselling; and the establishment of a non-partisan Crime Commission.