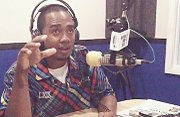 By AVA TURNQUEST
Tribune Chief Reporter
aturnquest@tribunemedia.net
ACTIVIST and talk show host Louby Georges said yesterday he has sought international assistance for safety fears due to the escalating tension created by the police probe into a recent town meeting hosted for Haitian-Bahamians.
The investigation was ordered by Foreign Affairs and Immigration Minister Fred Mitchell, who last month suggested that comments made at the meeting bordered on "incitement".
Mr Georges explained that he has repeatedly been targeted and victimised due to his outspoken role as an advocate for the enforcement and protection of basic human rights in this country, with specific focus on the rights of Bahamians of Haitian descent and Haitian migrants.
He expressed concerns that the police probe into the August 8 meeting was announced to the media without any prior investigation or evidence, adding that the statement put organisers at risk of abuse or attacks.
He said the Grand Bahama Human Rights Association (GBHRA) has made the Organization of American States' Inter-American Commission on Human Rights (IACHR) aware of the situation.
Mr Georges said: "I would like to emphasise the great extent to which I feel targeted and subject to victimisation. My only intent for holding the town hall meeting was the distribution of information to the Haitian community on relevant and important topics, a feat undertaken for the first time in the Haitian community in the Bahamas and which was deemed a huge success."
The activist claimed more than 500 people attended the meeting in question.
"We have made the IACHR aware of what is presently occurring with this situation and urged them to take whatever actions or interventions that may be deemed appropriate, as at present, I am in fear for my safety due to the escalating tensions created by this completely unfounded and sinister police probe," he added.
Hosted by The Connection, a group run by Mr Georges, the meeting showcased presentations from health experts, community leaders, and officials from the American and Haitian embassies.
Mr Georges noted that invitations were also sent out to the Ministries of Immigration and Education but were declined.
In a letter sent to the media yesterday, he explained that he founded The Connection to bring together young Bahamians of Haitian descent who seek to make a positive contribution and impact in the Bahamas through education and voluntary projects.
He added that one of the goals of his bilingual radio show, which airs on Bahamas Sports Radio 103.5FM with cohost Leyvon Miller, was to bridge the gap between the Bahamian and Haitian community.
Mr Georges was part of the Bahamian delegation of activists that travelled to Washington, DC, to highlight alleged human rights violations resulting from the government's immigration policy that was implemented in November 2014. The group, partly comprised of the GBHRA, was assigned a special monitor to review the treatment of human rights defenders.
"Clearly," Mr Georges added yesterday, "we feel unfairly targeted, persecuted and have now brought this matter to the attention of our OAS monitor and the rest of the international community."