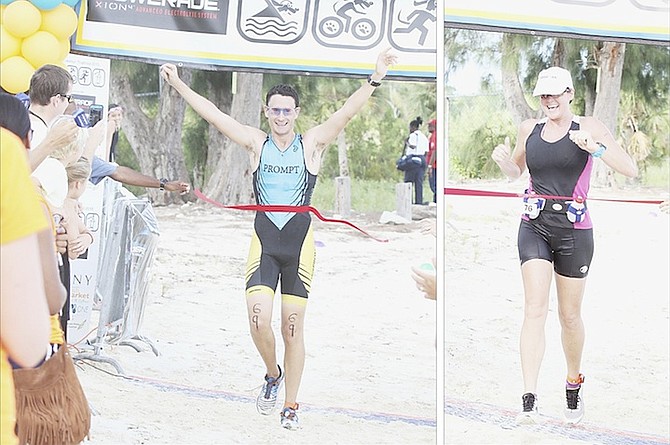 NOW the largest triathlon in the Bahamas with over 200 participants, Bahamas Alliance for Animal Rights and Kindness (BAARK) hosted the third edition of its Potcakeman Triathlon at the weekend with several new champions crowned in their respective age divisions.
Nationally renowned triathlete Simon Lowe was the men's overall winner while Julie Salas finished first among the women at the 2015 Powerade Potcakeman Triathlon at Jaws Beach, Clifton Heritage Park, on Saturday.
For Lowe, it was a chance to avenge his defeat last year to Kelly Cramp, winning in 1 hour 11 mins 05 secs, more than two minutes ahead of his rival. Cramp, who returned from Beijing, China, on Wednesday where he had served as the chiropractor for Team Bahamas, suffered an upset stomach the night before the race and said he lacked energy. He was second in 1:13.51 with Cameron Roach, who powered ahead in the swim, third in 1:15.19.
It turned out to be a Lowe family affair with Greg Lowe, Simon's father, winning the over 60s category.
Salas took the women's honours by over three minutes from Anna Zywiolek in an impressive 1 hour 16 mins 20 secs. The two leaders came out of the swim neck and neck but a convincing bike took Salas clear. Zywiolek finished in 1:19.40 with Elizabeth Shaddock third in 1:25.07.
In post on Facebook, event coordinator Sarah Kennedy expressed her gratitude to volunteers and participants for another successful edition of the event.
"Very long and tiring but amazing day organising the third Potcakeman Triathlon. Thank you to my co-event director Lori Feingold Roach who I couldn't do without. Had the best volunteers from Baark and David Prabhus blue crew. Congratulations to our new crowned champions Simon Lowe and Julie Salas. Some very exciting relays too but my performance of the day goes to 13-year-old Anya MacPhail for beating all the guys and gals in the relay swim," she said.
Proceeds from the event go towards BAARK!'s spay/neuter and education programmes across the Bahamas.
The Potcakeman is a sprint distance triathlon taking place each September. The races include adults, relay and kids events. The distances are 750m swim, 21k bike, 5k run. Participants can compete in the entire race or part of a relay team doing one or two legs each.
A kids' race followed with the distances of 100m swim, 5k bike, 1k run.
The aim of the event is to promote a healthy and active lifestyle in a fun way for the whole family. The motto of the event is 'You don't have to win, you just have to tri.'
In 2014, the second annual Potcakeman Triathlon featured over 200 participants. Featuring chip timing sponsored by Purina, the first person over the finish line was part of the Freeport-based team 'Executive Marine.'
Kelly Kramp was crowned overall men's winner, finishing with a time of 1:12:08 and newcomer Ashleigh O'Mahony won the women's division in 1:19:20.
The new champions were presented with dog-bone shaped trophies plus an Ironman watch donated from John Bull and a Kenneth Cole leather bag from The Shoe Village.
• See Tuesday Sports for
full triathlon results