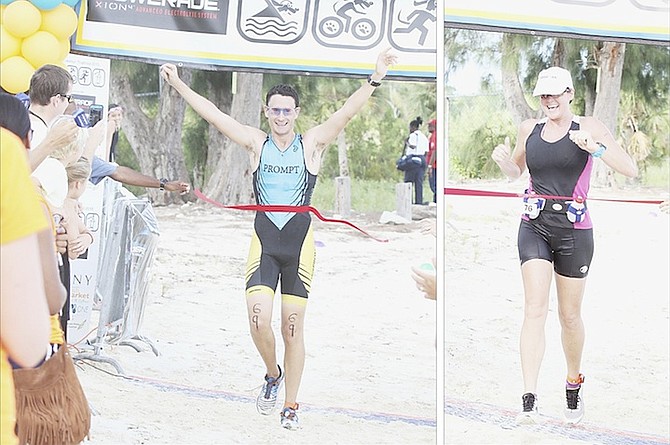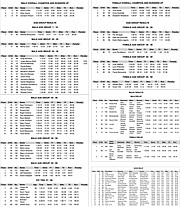 By RENALDO DORSETT
Sports Reporter
rdorsett@tribunemedia.net
UNPREDICTABLE weather over the weekend held up just enough for over 200 participants to swim, bike and run in the name of a good cause at the 2015 Powerade Potcakeman Triathlon.
At the end of the gruelling trek at Clifton Heritage Park, Simon Lowe and Julie Salas were overall individual winners in the male and female groups respectively.
In the relays, "Rusty Nuts" took first place among males, "Jade" was first in the female division and "VMG" topped the heavily populated mixed relay division.
Lowe, a nationally renowned triathlete, took the overall title at the Potcakeman for the first time in his career in a time of 1:11.05seconds, nearly two minutes ahead of his pace in 2014.
His list of accolades in the sport includes wins at the UWI, Conchman, and Pineappleman triathlons, as well as the Olympic Distance Triathlon at the Great Abaco Fitness Weekend.
"I can say this one in particular feels great because although I've won a few in the past, but this is the won I've never won before," he said. "So I put in a lot of focus on the training over the last few months leading up to this. I'm thrilled to beat last year's time by the margin I did, but it was a great course, and we were lucky to get perfect weather, especially on the swim."
Lowe, who represented Paradise Race Organisation Management Promotions Timing (PROMPT), credited his improvement to advancements in his training regimen.
"Most likely it was because over the last few months I focused on long rides to improve my cycling and I trained with an excellent crew who really pushed me every step of the way. When you train with a talented group, you have no choice but to get better, so a lot of the credit goes to them."
With more popularity of the sport drawn to each event, Lowe said his focus now shifts to the Conchman, hosted in Grand Bahama in November.
"Over the last five years in particular, I have seen the sport grow a lot, especially the cycling aspect which has really taken off as a sport on its own and a lot of people have started triathlons because of that. With the weather the Bahamas is a great place to train and compete so it makes sense that it would become more popular here," Lowe said.
"I think I still have more improvements in me and I'm just going to keep doing what I'm doing, every year you keep training and you hope to get better."
Lowe finished ahead of defending champion Dr Kelly Kramp, who was second this time around in 1:13.51 seconds and Cameron Roach was third in 1:15.19.
Kramp, who served as the chiropractor on the medical staff for Team Bahamas at the recent IAAF World Championships in Beijing,  returned from China on Wednesday and on top of a hasty two-day turnaround, was battling an illness as well. He won the 2014 event in 1:12:08.
Salas has been an active participant on the local fitness circuit as well and took the women's overall title in 1:16.20. She finished ahead of 2013 Potcakeman champ and 2014 runner-up Anna Zywiolek in 1:19.40 and Elizabeth Shaddock, who was third in 1:25.07.
After topping her age group in the inaugural edition, and competing as a relay member last year, Salas was finally able to break through for the overall title.
A busy 2015 has included a first place finish at the Dog Day Half Marathon in May and a sixth place finish in her age group at Marathon Bahamas in January.
In the relay, a star-studded team "Rusty Nuts" featured Mark Richford, Lee Farmer and O'Neil Williams to finish first overall in 1:00.24.
Richford gave the team an early lead on the swim and was followed by Tour de Bahamas winner Lee Farmer who completed the cycling portion in 31:47.
Williams, the national  record holder in the 5,000m, finished the run in 16.28 to take first place. They defeated defending champions Executive Marine who again featured Joshua Rigby (swim) and David Mellor (bike), and Keith Hanna this year in place of Delroy Booth. They finished second in 1:04.00.
The female relay winners, Team Jade featured Anya MacPhail, Cintia Schutt and Dominique Tordi in a first place finish of 1:17.50. Team Die Tri-ing (Iola Knowles, Monica Hitchins and Deb Saunders) was a distant second in 1:38.08.
In the mixed relay team event, Mark and Nancy Holowesko teamed with Chris Larson to take first place in the division in a time of 1:11.46.
Mark has completed multiple Ironman-distance triathlons and is a sailor, having competed for the Bahamas at the 1996 Atlanta Olympics.
Other male division winners included Mitchell Blacquiere in the 1-19 (1:23.23), Kenny Scot in the 20-29 (1:48.10), Greg Michelier in the 30-39 (1:15.41), Sean Farrington in the 40-49 (1:19.10), Mark Davies in the 50-59 (1:18.01), Simon's father, Greg Lowe in the 60+ (1:27.09) and Habbo De Vaere in the Fat Tire (1:37.31).
Female age group winners included Pia Venegas in the 20-29 (1:32.30), Julie Pendlebury in the 20-29 (2:01.07), Vicki Stafford in the 40-49 (1:30.46), and Debbie Reid in the 50-59 (1:30.48).
The Bahamas Alliance for Animal Rights and Kindness hosts the event and its proceeds go towards BAARK!'s spay/neuter and education programmes across the Bahamas.
The Potcakeman is a sprint distance triathlon which include adults, relay and kids events. The distances are 750m swim, 21k bike and 5k run.