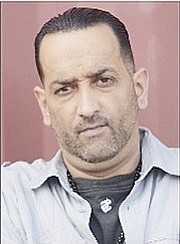 By Inigo 'Naughty' Zenicazelaya
On this day in Sports History
WELL, as you all should know by now, the NFL season starts on Thursday night with the Steelers and the Patriots kicking off the 2015-16 campaign.
I love football more than most, and I also know the NFL is going to occupy a big portion of the sporting landscape for the next six months.
I have no desire to beat old pre-season news of a certain cheating QB's suspension being lifted, surprising cuts and last-minute trades.
This is all banter to kill time until the season kicks off and the real festivities and verbal jousting begins on Thursday night.
Also look for The Tribune's NFL picks each and every Thursday (my insightful predictions will be there), so your NFL jones should be satisfied with that edition.
Before I move on, here are a few sleepers worth a pick in the later rounds of your Fantasy Football draft that could pay off big for you during the season:
QB: Tyrod Taylor (Buffalo)
RB: Chris Ivory (NY Jets), Tevin Coleman (Atlanta), Isaiah Crowell (Cleveland), Denard Robinson (Jacksonville)
WR: Terrence Williams (Dallas), Cole Beasley (Dallas), Ty Montgomery (Green Bay), Alan Robinson (Jacksonville)
TE: Owen Daniels (Denver)
However, today I prefer to look at what occurred on this day - September 8 - in sports history.
Just like in life, academics and business, sports is no different; if you don't know and respect our past, you will never know and respect your future.
So here's what sporting great moments (dominated by tennis mostly) occurred on this day in history. Close the door of the time machine behind you, buckle up, here we go.
1915 - 35th US Men's National Tennis Championship: William Johnston beats Maurice McLoughlin (1-6, 6-0, 7-5, 10-8)
1919 - Babe Ruth hits his 26th home run off Jack Quinn in New York, breaking Buck Freeman's 1899 mark of 25
1934 - 54th US Men's Tennis: Fred Perry beats Wilmer L Allison (6-4, 6-3, 1-6, 8-6)
1939 - Indians' Bob Feller, 20, is youngest pitcher to win 20 games
1939 - Yanks beat Red Sox 4-1 in seven, game called because of lightning
1943 - NY Giants' pitcher Ace Adams sets record by working in his 62nd game
1946 - 60th US Women's Tennis: Pauline Betz beats Patricia Canning (11-9, 6-3)
1946 - 66th US Men's Tennis: Jack Kramer beats Tom Brown Jr (9-7, 6-3, 6-0)
1946 - San Francisco 49ers play first AAFC game, lose to NY Yankees 21-7
1946 - 66th US Men's National Championship: Jack Kramer beats Tom Brown Jr (9-7, 6-3, 6-0)
1952 - 72nd US Men's National Championship: Frank Sedgman beats Gardnar Mulloy (6-1, 6-2, 6-3)
1954 - With a 3-2 count, Phillies' Richie Ashburn fouls next 14, then walks
1955 - Earliest clinching of an NL pennant (Brooklyn Dodgers)
1957 - 77th US Men's Tennis: Malcolm Anderson beats Ashley Cooper (10-8, 7-5, 6-4)
1958 - Mickey Wright wins LPGA Dallas Golf Open
1973 - Billy Martin named manager of Texas Rangers
1973 - Hank Aaron sets record of most home runs in one league (709)
1974 - 88th US Women's Tennis: Billie Jean King beats Evonne Goolagong Cawley (3-6, 6-3, 7-5)
1974 - 94th US Men's Tennis: Jimmy Connors beats Ken Rosewall (6-1, 6-0, 6-1)
1974 - Ian Thompson wins European Championship marathon in 2hr 13min 18.8sec
1974 - Joanne Carner wins LPGA Dallas Civitan Golf Open
1978 - Second game of Boston Massacre; Yanks beat Red Sox 13-2
1984 - 98th US Women's Tennis: Martina Navratilova beats Chris E L Mills (4-6, 6-4, 6-4)
1985 - 105th US Men's Tennis: Ivan Lendl beats John McEnroe (7-6, 6-3, 6-4)
1985 - Pete Rose ties Ty Cobb with 4,191 hits.
1988 - Javier Sotomayer of Cuba high jumps world record 2.43m
1988 - NL president Bart Giamatti is unanimously elected baseball's seventh commissioner
1989 - George Brett gets his 2,500th hit
1990 - 104th US Womens Tennis Open: Gabriela Sabatini beats Steffi Graf (6-2, 7-6)
1991 - 111th US Mens Tennis: Stefan Edberg beats Jim Courier (6-2, 6-4, 6-0)
1991 - Michelle Estill wins Ping-Cellular One LPGA Golf Championship
1992 - Danny Tartabull has 9 RBIs as Yanks beat Orioles 16-4
1993 - Baseball's proposed switch to a three-division format agreed in AL
1995 - Cleveland Indians clinch 1st AL Central Division title
1996 - 110th US Womens Tennis Open: Steffi Graf beats Monica Seles (7-5, 6-4)
1996 - Dottie Pepper wins Safeway LPGA title
1996 - Sri Lanka defeat Australia to win Singer World Series at Colombo
2002 - Texas Rangers set a major league record by homering in their 26th consecutive game
2013 - Sebastian Vettel wins the 2013 Italian Formula One Grand Prix
Until next week, keep swinging for the fences, you're bound to hit something.
• Naughty presents 'Mischief and Mayhem in da AM' on KISS FM 96.1 from 6am to 10am, Monday to Friday. Comments and questions to naughty@tribunemedia.net