Ricardo Wells on why his devotion to the New England Patriots and a certain quarterback means so much . . .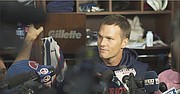 I BEG you to suppress all the preconceived notions you have of - arguably - the greatest quarterback of all-time, Thomas Edward Patrick Brady Jr.
While his 392 career touchdowns, four Superbowl wins in six trips, nine conference title-game appearances, 53,258 career passing yards and 95.9 quarterback's rating are all feats to marvel at, the greatest of Tom Brady can only be attested through his resilience.
I have been a fan of the New England Patriots since Super Bowl 31, when we squared off against Brett Favre and Green Bay. I was six, struggling to grasp the concept of why overgrown men would fight for an oddly shaped ball as my father expressed satisfaction with every brutal hit.
In 1997, the idea of being a Patriots fan in the Bahamas wasn't as mainstream as it is today. In fact, if you asked most Pats fans today who started that game they would say Brady.
It was Drew Bledsoe. The Patriots lost by 14 points, and of course Drew couldn't stay upright and complete a pass. He finished the game 25 for 48 on passes, two touchdowns and four painful interceptions.
The fact that one person could look so awful at something they got paid millions to do, at the most important time ... I was captivated.
Fast forward three years, to the draft that changed everything. My Patriots, needing a big draft, selected a quarterback with the most lethargic, unmotivated and disinterested look. A Michigan guy, a back-up, at pick 199, after passing up on six other quarterbacks.
A lesser man would have accepted his fate and play to his draft number. Brady, then 22, told Patriots owner Robert Kraft: "I'm the best decision this organisation has ever made." There seemed to be something special about this guy.
However, my father, a devout St Louis Rams' fan, and my brother, three years my senior and a lost, misguided Indianapolis Colts' fan, could not let me overlook the Brady pick.
Why would they? The Rams had the league's best offence at the time, the "greatest show on turf". Every boy at that time wanted to be Torry Holt or Issac Bruce, record setters. And the Colts two years earlier turned their #1 draft choice, Peyton Manning, into QB royalty and were being projected as AFC East winners for years to come.
I hated it.
In Week 2 of the 2001 season against the hated New York Jets, as the man who couldn't stay upright four years earlier against the Packers scrambled away from pressure, it happened. With a single, crushing hit from a Jets linebacker, Bledsoe was done - and so, it seemed, was the Patriots' season.
The still lethargic, unmotivated and disinterested quarterback stepped in. But despite the sombre hush, he seem to transform. Ole' tired Tom became Tom Terrific.
In Week 3 he made his first career start against the Colts and his soon to be biggest adversary, Manning. Back then, this game meant nothing. Except, in my house, it meant everything.
As an indication of what was to come, Tom outlasted Peyton - he didn't try to over-do it or out perform Peyton. He simply lead his team, challenged them to be great, to be resilient. New England jumped out to a 23-0 lead and never looked back.
Brady didn't score, but he looked good. My dad said it was good coaching by Bill Belichick, Mark (my older brother) brushed it off as luck.
Three weeks later they faced off again, this time in Peyton's house. Tom threw three touchdowns, including a 91-yard strike to David Patton on a mesmerising flea-flicker play. The relentless Pats defence ripped Peyton apart; he looked ruined. Mark was lost for words. His Colts never recovered that season.
In week 15, we took out the Dolphins for the first time in three years. At this point they were more Bahamian Dolphins than Miami Dolphins and everywhere you went you would hear talk of how great the Dolphins were that year.
In the playoffs, against the dreaded Raiders and down 13 in the fourth, Brady led the Patriots on a 10-play, 67-yard drive, completing nine consecutive passes for 61 yards and finishing it with a six-yard touchdown run.
People only remember the "Tuck-Rule". I remember that drive. Tom's TD run brought us to within a single score: two Adam Vinatieri field goals later we were on our way to Heinz Field for a date with the Steelers.
Up 14-3, Tom took a shot from Steelers safety Lee Flowers. It was obvious he wasn't coming back. Bledsoe entered the game and, just like that, the whole ride of the last year was over. The stud, unrelenting, passionate 6ft 4in genius under centre was gone.
The Patriots hung on to win, but I was devastated. All I could think about was Bledsoe, him not being able to stay upright and those four picks he threw against the Packers.
During the week of Super Bowl 36 news broke that Brady would start for the Pats against my father's Rams, one the toughest teams of the modern era.
Shortly after the Rams tied the score at 17, my heart buckled. I didn't know what it meant to win a Super Bowl. No time-outs left, 1:30 on the clock, Brady stepped on to the Superdome field. History records what happened next.
Brady hit running back J R Redmond for three consecutive completions, moving the ball to the Rams' 41-yard line with 33 seconds left. After an incomplete pass, Brady completed a 23-yard pass to wide receiver Troy Brown and followed it with a six-yard completion to tight end Jermaine Wiggins to advance to the 30. With seven seconds left Brady spiked, which set up 48-yard field goal attempt. As the ball split the uprights the Patriots clinched their first title, the first time a Super Bowl game was won by a score on the last play.
Tom stepped in against legacies, records, statistics, names - but back at my house he stepped in to prove to my father that a nine-year old could understand the game we both love so much just a little more than he did.
The bond I have with the Pats goes a lot deeper than the attraction an average sports fan has to a team that is doing well at that particular time. It meant something. It meant knowing more than my big brother and my dad ... bragging rights.
Tom Brady became my favourite person, the person I could use to destroy my brother's happiness. Tom became the exception to the rule, the example I could use to tell my daddy that anything and everything was possible. He was the epitome of coming out of nowhere and becoming the best.
Brady's statistics and passer rating didn't matter: he simply found a way to win. He reached the summit, all in his first two years in the league.
Since then, he has won three more titles, two MVP awards, countless Pro-Bowl selections and more statistical records than most first ballot Hall of Famers can claim. Brady never gave up, even when we expected him to. When he was hated he won; when he was disrespected he won; when he was left for dead (in respect to his career) he won.
This off-season, amidst the "Deflate-gate" saga, guess what Tom did? He won. They tried to bury him with a four-game suspension for an offence the carried a $25k fine. Tom took it to court and won.
Similar to the way Tom Terrific did after tearing his ACL and exactly how he is going to do this season. Resilience.
rwells@tribunemedia.net