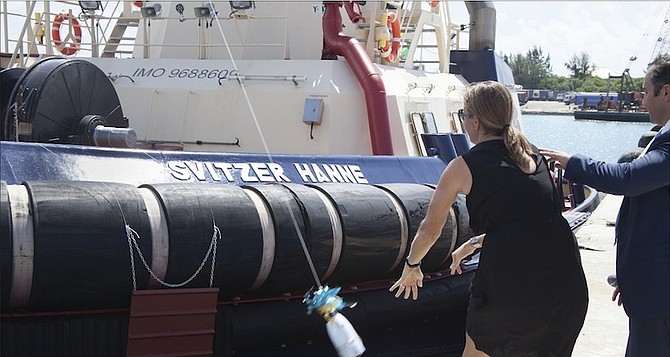 By DENISE MAYCOCK
Tribune Freeport Reporter
dmaycock@tribunemedia.net
THREE new tugboats were commissioned and christened at the Freeport Harbour yesterday as the Svitzer Corporation upgrades its fleet to provide safe, efficient, quality towage and emergency response services in Grand Bahama.
There was a traditional christening of the tugboats - Svitzer Yuma, Svitzer Freeport and Svitzer Hanne - with the breaking of a bottle of champagne over the bow of the vessels for good luck and safe travels. Yuma and Freeport were built by Damen Shipyards in the Netherlands and Hanne was recently refurbished.
This investment brings the total fleet to eight in Grand Bahama. Svitzer is a global leader in towage and emergency response, providing services to 100 ports worldwide.
Lorraine Armbrister, permanent secretary in the Ministry of Transport and Aviation who performed ceremonial christening of the Yuma, said that the commissioning of the vessels signals the continuing commitment of Svitzer to Grand Bahama's maritime sector and the Bahamian economy.
As one of only two non-Bahamian tug operations, the company provides services to Freeport Harbour, Statoil's South Riding Point Holding Ltd oil terminal and employs an all-Bahamian crew of 50.
In addition to towage services, the company also undertakes salvage operations. Svitzer responded when Bahamas Celebration ran aground and lost power last October after leaving Freeport Harbour, with 900 passengers on board. Svitzer's tugboats were able to push the disabled cruise ship safely back into harbour.
Ms Armbrister said Svitzer continues to grow and partner with major shipping lines such as Mediterranean Shipping Company (MSC) and Maersk Line and has also assisted ships at the Grand Bahama Shipyard.
"Indeed, the demand for more high powered tugboats to accommodate larger vessels coming to Freeport Harbour led to the purchase of these three new vessels to replace three of the older tugboats," she said.
The permanent secretary also commended the company for its recent acquisition of a navigation simulator at its Training Centre in Freeport to train marine pilots and tugboat captains in the Bahamas and from around the world.
Ms Armbrister noted that the ministry is engaged with the Bahamas Shipowners Association and the Bahamas Maritime Authority to establish a database of trained Bahamian mariners for placement on registered ships in the Bahamas and elsewhere in the maritime industry.
She also said that they are engaged in several initiatives to enhance the maritime sector through collaboration with the Office of the Attorney General, which is in the process of reviewing and substantially amending and enhancing several pieces of Bahamian maritime legislation.
Martin Helweg, managing director of Svitzer Americas Ltd, said their investment in the new tugs is a demonstration of their commitment to providing reliable, safe, quality service to its customers.

"When we opened the training centre last year we promised further investment in the Bahamas and the port of Freeport, and less than a year later we have fulfilled it with these three tugs," he said. "As the largest towing company in the world, we know that to be successful in maritime and transport we need to constantly focus on reliability and optimising turnaround time for customers without compromising the safety of our people and the environment."