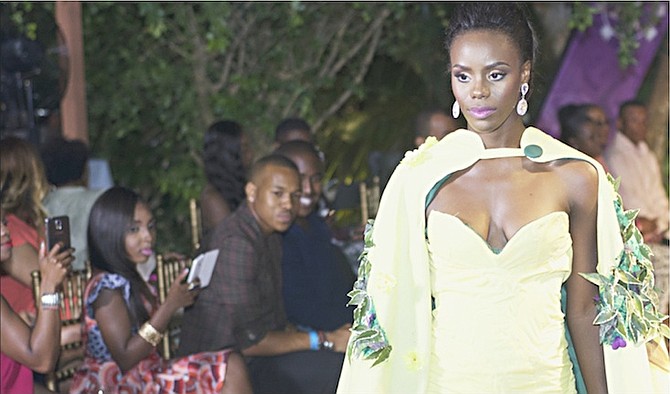 A DRAMATIC, avant garde evening gown that was considered the best depiction of the theme, Beauty by Nature, has won emerging fashion designer Trineil Hanna the coveted Miss Bahamas Organisation's (MBO) Top Designer Award.
The 23-year-old's strikingly beautiful yellow dress incorporated a myriad of things Bahamian from branches, flowers and beads to straw, butterflies and birds. His piece wowed the audience at Sapodilla Restaurant, West Bay Street, as his model, Miss Universe New Providence Sienna Evans, sashayed down the runway.
As a Fashion Design graduate of the Bahamas Technical and Vocational Institution (BTVI), Mr Hanna was eligible to be one of the 15 entrants of the competition which was exclusively for BTVI students and alumni. It was a collaboration with MBO that is already bringing much exposure for the participants.
"The experience was really exciting. Also, after winning, it was very humbling, knowing that what I can do can be seen worldwide," said the 2006 graduate.
This year's theme for MBO's pageants (Miss World Bahamas, Miss Universe Bahamas and Miss Earth Bahamas) is 'Beauty by Nature' and each contestant was paired with a current or former BTVI student. While there were judges to find the top model among contestants, there were also judges to find the top designs on the runway.

The BTVI students and alumni were able to bring their vision to life, thanks to MBO's partnership with Commonwealth Fabrics, which helped to donate fabrics and notions.
Second in the Top Designer award was Delano Marc, who was unable to attend the event as he was working. "I was texting people and calling. I found out at 11pm that I placed second. I was telling all of my colleagues," he said. Mr Marc's piece was inspired by international recording artist Rihanna's song, Towards the Sun.

The 24-year-old said he often draws inspiration from music. The fitted dress was layered with yellow fabric, accessorised with a graphic cape with an airbrushed tree and covered with a cluster of leaves. His model was Miss Universe Grand Bahama, Darronique Young.
In third place was another BTVI graduate, Mrylande Julien. She broke ranks by refusing to create an evening gown, but a creation that incorporated pants. The three-piece ensemble that incorporated pants, layered with a sheer skirt and bustier, in addition to being all white, turned heads. It was worn by Miss Universe Paradise Island, Toria Penn.
"I wanted to do something different. I guessed everyone else would do a dress," said the 2010 BTVI graduate. "I saw the model and I just saw white on her. As soon as I saw her, I envisioned the pants with the skirt in white. I hope the Miss Bahamas Organisation continues to do this. It was a very good incentive for students," said the 31-year-old.
The winner and runners-up in the Top Designer competition will go on to design three to four signature pieces and be paired with Miss World Bahamas, Miss Universe Bahamas or her first runner-up, Miss Earth Bahamas. Each queen will reserve one of the pieces for an international competition.
The head of BTVI's fashion department, Shirley Pearson, was elated by the competition. "The students really deserve this," she said. "This is more motivation for the others. We're now on the map and bigger and better things are to come for the students and BTVI. Our students can stand with any international fashion students."
Senior craft instructor, Kathy Hamilton-Pinder, said she was impressed with the students' workmanship. "They did an excellent job for amateurs. Trineil is a great designer and full of talent. Delano learns quickly and is very determined and Myrlande, she believes in herself and has great potential. I believe this competition will boost enrolment for the fashion department, which is BTVI's best-kept secret."