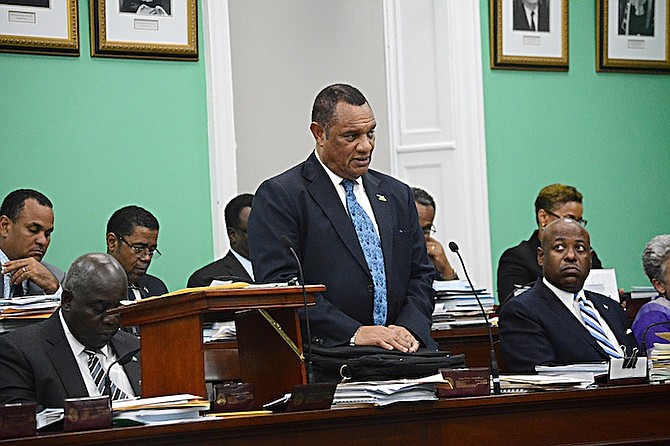 By RICARDO WELLS
Tribune Staff Reporter
rwells@tribunemedia.net
PRIME Minister Perry Christie insisted yesterday that the time is now for global investors to consider the Caribbean region, implying that regional economies have shown resilience amidst global trends.
During an address to the 2015 Caribbean Investment Summit in London, England, Mr Christie called on "ultra-high" investors to consider making their next investment in any of the unique countries, if not the entire Caribbean region.
Mr Christie acknowledged that London had more "ultra-high" net worth people than any other city in the world.
Those investors, he added, continue to generate valuable and sought after economic benefits for host countries.
"The climate is indeed ripe for inward investment in the Caribbean," he declared.
"(The Caribbean) has redoubled its efforts toward implementing energy and fiscal reforms, promotion of investment incentives, strengthening of compliance and continues redress of social ills in the wake of the global economic crisis."
"The Caribbean region as a whole provides competitive advantages of accessibility, economic and political stability, adequate labour supply, modern infrastructure, robust investment incentive frameworks and trade facilitation, with some preferential access to markets through its trade agreements with Europe, the United States and Canada."
According to Mr Christie, foreign investors are now venturing in previously unexplored sectors of regional economies – natural resources, infrastructure, manufacturing, real estate, transport, telecommunications, energy, stem cell research and medical tourism – as member CARICOM countries continue towards the development of a single market economy.
Meanwhile, he said he remains convinced that the tourism sector and its niche industries will continue to be the engine of economic growth, employment, human capital development, industry diversification and business improvement in the Caribbean.
Mr Christie explained that the tourism supply chain not only relies on quality construction, management and maintenance of resorts, but also an extensive range of retail services.
In addition to his plea for more investments, Mr Christie mentioned the need for regional economies to be put on course to macro-economic stability.
He also mentioned the need for energy security, developmental strategies, advance technologies that induce creative processes and joint ventures.
The Centreville MP said: "Caribbean economies are barely emergent economies which have succeeded, albeit with much struggle, in establishing governance and compliance frameworks which meet the demands of these agencies without the benefit of centuries of development and economic self-determination and without any significant investment inflows from their jurisdictions."
"All potential Caribbean investors should be encouraged by the region's posture toward inward investment, and particularly public private partnership, which can only be ably demonstrated through dialogue and goodwill."
Mr Christie spoke at the invitation of the Caribbean Export Development Agency (CEDA) and the Caribbean Association of Investment Promotion Agencies (CAIPA), which hosted the event.
The CAIPA was established to help investors identify projects throughout the Caribbean in a state of readiness for investment and help interactions with Caribbean governments.
The agency now considers 19 Caribbean nations members, including the Bahamas.
Earlier this week, Mr Christie and a delegation including Minister of Tourism Obie Wilchcombe; Minister for Grand Bahama Dr Michael Darville; Senior Policy Advisor to the Prime Minister Sir Baltron Bethel; Executive Director of the Bahamas Investment Authority Candia Ferguson; representatives from ZNS and ministry officials.
The delegation is due back in the country today.